Report: Russia says it will treat coalition planes in Syria as targets after US downs Syrian jet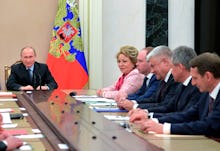 In response to a United States fighter jet shooting down a Syrian plane in its Raqqa province, Russia has said that it will now treat U.S.-led coalition planes as targets, the Associated Press reports.
On Monday, the Pentagon confirmed that the U.S.-led coalition had downed a Syrian jet — the first time that has happened in Syria's six-year civil war.
In a statement released On Sunday, U.S. Central Command noted that the U.S. F/A-18E Super Hornet had fired on the Syrian plane in an act of self-defense.
"The Coalition's mission is to defeat ISIS in Iraq and Syria. The Coalition does not seek to fight Syrian regime, Russian, or pro-regime forces partnered with them, but will not hesitate to defend Coalition or partner forces from any threat," the statement read, according to the Independent.
"The Coalition presence in Syria addresses the imminent threat Isis in Syria poses globally. The demonstrated hostile intent and actions of pro-regime forces toward Coalition and partner forces in Syria conducting legitimate counter-ISIS operations will not be tolerated."
But Syria immediately condemned the move as a "flagrant attack" that would have "dangerous repercussions," according to the BBC.
In a statement, Russia's Defense Ministry called the shooting down of a Syrian Air Force jet "a cynical violation of Syria's sovereignty."
"The U.S.' repeated combat operations under the guise of 'combating terrorism' against the legitimate armed forces of a UN member-country are a flagrant violation of international law and an actual military aggression against the Syrian Arab Republic," the ministry said.
Although Russia has been providing air support for the government forces of Syrian President Bashar al-Assad, since 2015, the country has maintained open communication channels with the U.S. in an effort to prevent direct military conflicts between the two nations.
This story is breaking and will be updated.