'Pokémon Stars' Switch Release Date: Nintendo's Reggie Fils-Aime talks about core 'Pokémon' RPG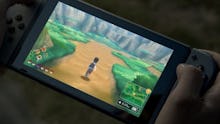 The Pokémon Stars release date was nowhere to be seen at this year's E3, but we didn't walk away empty-handed. During Nintendo's E3 2017 announcement, The Pokémon Company made mention of a "core RPG" Pokémon game coming to the Switch. Nintendo of America president, Reggie Fils-Aime, confirms that's exactly what we're expecting.
Pokémon Stars release date: Reggie confirms what kind of Pokémon title we can expect
In an interview with Yuji Nakamura in Bloomberg, we learn Reggie's impressions of the upcoming Pokémon game. According to Reggie, via Nakamura on Twitter, the upcoming Pokémon game for Switch would be "a traditional find, battle, train type experience."
Once Pokémon comes to the Switch, hopefully Nintendo better have the device in stock, as the hardware will begin selling by the truck load. Nintendo handhelds have almost had license to print money for the company in the past and with a mainline Pokémon game out, it's tough to see the Switch not following suit.
Pokémon Stars release date: When can we expect the game?
According to Tsunekazu Ishihara during Nintendo's E3 presentation, we won't see the game anytime this year. Ishihara didn't mention 2018 being out of question, either. Next year may be the earliest we can expect Pokémon Stars, or whatever the game may be called, to come to Switch. We'll let Gold and Silver tide us over until then.
Check out more Pokémon news and coverage here
Read more coverage on the rumored Pokémon Stars, including Nintendo's comments on the potential Switch game and news about GameFreak putting up a now hiring sign. Watch how well Sun and Moon could translate to Switch and why we won't see the game come to the home console this year. At least we're getting portable Pokkén and Gold and Silver again.