Jay Z confirms what the internet already knew: '4:44' is his next album and it's coming very soon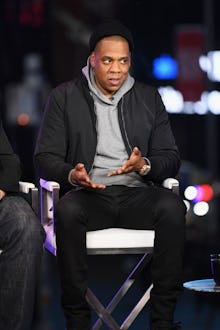 It took the internet approximately no time at all to figure out what was behind the mysterious "4:44" posters that started appearing around New York City and in the ad banners of choice websites earlier in June. Coding sleuths at Kanye to the People found traces of Jay Z's streaming service Tidal in the web code. Instagram posts from producers Swizz Beats and Zaytoven confirmed Brooklyn's finest was in the studio. Sunday, the news was made official: Jay Z has a new album on the way, and it's coming on June 30.
The rapper — and father of newborn twins — shared the announcement via a new commercial on his Tidal streaming service, as Sunday ticked over to midnight Monday morning. It's a revival of the cryptic Sprint and Tidal 4:44 ad that first went live during the NBA Finals. That clip left people wondering if the project was actually going to be a boxing film staring Mahershala Ali and Danny Glover.
Now we know it's a teaser for 4:44, Jay's 13th studio album and first since 2013's Magna Carta Holy Grail. The new commercial features the same shots and beat as the earlier one, but it now features audio of Jay Z rapping a few lines, including one about a "letter to my dad that I never wrote."
"Adnis" is the ad's title, and it might also be the name of the song it's previewing. The title is likely a nod to Jay Z's late father, who was named Adnis Reeves. Longtime fans of Jay know that the Brooklyn emcee — who just recently made history by becoming the first hip-hop artist inducted into the Songwriters Hall of Fame — has rapped about his father on several of his songs, often calling him out for abandoning his young son.
"So pop I forgive you/ For all the shit that I lived through," Jay Z rapped on his 2003 Black Album cut "Moment of Clarity." "It wasn't all your fault/ Homie you got caught."
In true Tidal fashion, the album will only be exclusive to the service's subscribers. But this time around, anyone with a Sprint contract can also get in on the action, a partnership that the two companies are billing as "first-of-its-kind partnership and offer," according to a press release. That partnership will also support the 1Million Project, an initiative aiming to offer internet access to 1 million low-income U.S. high school students to eliminate the "homework gap."
It's not completely clear what the relationship is between the clip of Ali and Glover and the album itself, but all signs appear to be pointing to a visual album, the format favored by Jay's better half, Beyoncé. Sprint customers and Tidal subscribers of the world won't have to wait too much longer to find out.
Mic has ongoing music coverage. Follow our main music hub here.