GOP Rep. Chris Collins responds to the Alexandria shooting with a vow to carry a gun everywhere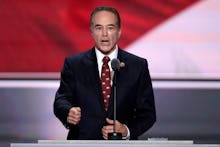 In the wake of the shooting at a Congressional baseball practice on Wednesday, one Republican congressman would like you to know that he — like the shooter — will now be carrying a gun into civilian spaces.
Rep. Chris Collins (R-N.Y.) penned an op-ed for the Washington Post on Monday in which he responded to the shooting by vowing to carry a gun with him as he travels across his New York district.
"Here's what's not up for debate: From now on, I'll be exercising my Second Amendment right to carry a firearm as I travel my district," Collins, who represents a district in Western New York State that includes large parts of suburban Buffalo, wrote.
Collins' office said that the Congressman has had a concealed carry permit for the State of New York for the last 30 years. Mic reached out to the New York State Police Department to verify that claim but was told that the information is privileged.
On Wednesday James T. Hodgkinson opened fire on a several GOP members of Congress and their staff as they were practicing for the annual Congressional Baseball Game at a field in Alexandria, Virginia. Hodgkinson seriously wounded several people, including House Majority Whip Steve Scalise (R-La.) before being shot and killed by Capitol Police in a shootout.
Though Collins mentions the heroism of the Capitol Police in that moment, he ultimately concludes that it is also his responsibility to start firing in an active shooter situation.
"Capitol Police officers were heroes last week — their bravery and quick thinking probably saved the lives of Rep. Scalise and my other colleagues — but self-defense is my responsibility, too," Collins wrote.
Collins repeated the conventional wisdom among gun rights activists that the only way to stop a bad guy with a gun is a "good guy" with a gun. But experts have repeatedly debunked that claim with data showing that a nation saturated with guns makes is far more dangerous than one with limited gun ownership.