Dolce & Gabbana found a new enemy in Miley Cyrus after she slammed their politics on Instagram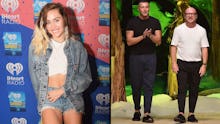 There are plenty of fashion designers and brands trying to distance themselves from the Trump family, some going so far as to vow never to dress anyone in the family at all. And then there is Dolce & Gabbana — not only are they defending their right to dress Melania Trump, they're willing to go to bat for it.
This is something we learned over the weekend when an unlikely enemy of the brand emerged: Miley Cyrus. Cyrus' brother, Braison Cyrus, walked in the brand's fashion show on Saturday at Milan Men's Fashion Week, alongside other A-list adjacent talent including Hillary Clinton's nephew Tyler Clinton and Pippa Middleton's new brother-in-law Spencer Matthews.
When the elder Cyrus posted on Instagram to congratulate her brother, she didn't ignore the fact that D&G's politics stand at odds with her own. "Congrats [Braison Cyrus] on walking in your first runway show," she began, ending the post by directly addressing Dominic Dolce and Stefano Gabbana: "PS D&G, I STRONGLY disagree with your politics... But I do support your company's effort to celebrate young artists and give them the platform to shine their light for all to see!"
Although Cyrus didn't specify what politics she disagreed with specifically, it could be a number of things. Again, D&G has become a favorite brand for both Melania Trump and Ivanka Trump. For Melania's first trip abroad, D&G created several custom pieces for her, and boasted about it on Instagram.
Because of that, one of D&G's designers, Stefano Gabbana, has ignited a months-long feud with his Instagram followers, and in a rather obvious attempt to mock these haters, D&G's just recently released a #BoycottDolce&Gabbana T-shirt.
So it could be the Trump thing. It could also be because D&G uses real fur, and Cyrus is against wearing fur. It could also be that D&G's designers spoke out against same-gender families in 2015, with Domenico Dolce telling a magazine, "We oppose gay adoptions. The only family is the traditional one." In truth, it could be all of those things combined.
But Stefano Gabbana being Stefano Gabbana, a man who loves to egg his critics on, replied to Cyrus on Instagram. In one comment, he wrote "Ignorant," and in another, he vowed to never let Cyrus' brother walk for the brand again. "For your stupid comment never more work with him," he commented, with two red heart emojis.
Gabbana didn't stop there. In a post on his own Instagram account he wrote, "We are Italian and we don't care about politics and mostly neither about the American one! We make dresses and if you think about doing politics with a post it's simply ignorant. We don't need your posts or comments so next time please ignore us!!"
(Though if they really didn't care about politics, then why would he be fighting with Cyrus over this in the first place?)
He's now gone even further, posting screenshots of some of the Cyrus fans that have been inundating his own account. Translated from Italian, one post read: "This is one of the many ... babies who write stupid things."
Not done there, he's even taken to Instagram story to trash Cyrus' new single "Malibu."
So clearly, just one tiny bit of criticism from a well-known celebrity was enough to set Gabbana off and start a feud. As one of the very few brands that has willingly and proudly associated themselves with the Trump brand, maybe they should expect this kind of criticism from here on out.
To Gabbana though, any words seem to be fighting words.