Health care reform: A make-or-break week for the Republican health care bill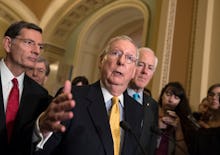 Democrats heaped criticism on Republicans last week for negotiating their health care plan behind closed doors. By Friday, Sen. Minority Leader Chuck Schumer (D-N.Y.) asked his GOP colleagues to meet with all senators to discuss the party's health care plan. Sen. Bernie Sanders (I-Vt.) has backed a leaked Democratic plan to stall the Senate if the plan advances.
Yet a report from Axios says Senate Majority Leader Mitch McConnell (R-Ky.) is dead-set on holding a vote by the end of June. That means, in order to vote with a score from the Congressional Budget Office, the bill would have to be submitted this week.
That leaves great uncertainty around whether the Senate can pass a bill. Republican senators are still split on whether they should slowly phase out Medicaid coverage or immediately shrink the program. There's also debate about how the bill should help lower-income Americans.
McConnell's push comes amidst critique from his own party. On Sunday, Sen. Marco Rubio (R-Fla.) warned his colleagues against rushing a vote. Sen. Susan Collins (R-Maine) said Friday she wouldn't vote for a bill that hasn't been scored by the CBO. Sen. Lisa Murkowski (R-Ala.) reiterated her commitment to funding for Planned Parenthood — a non-starter for some conservatives — and said the secrecy of the negotiations also irks her.
As the finish line comes into view, losses in special elections this week could be viewed as a referendum on President Donald Trump, congressional Republicans and the role of the Trump resistance in electoral politics. Of course, the health care vote looms as the president, with a lowly 39% approval rating, digs his heels in against the ongoing Russia investigation.
This is Mic's daily read on Donald Trump's America. Good morning from Washington Reagan National Airport. I'll be in Georgia for the next few days covering the special election. Stay tuned.
Want to receive this as a daily email in your inbox? Subscribe here.
We're seeking your support to expand our coverage of Donald Trump. As little as a $1 a month will give you access to an exclusive group to interact with Mic journalists and grow our reporting. Learn more here.
What we're watching:
Today: The Republicans are expected to produce something on health care this week.
More: Another attack in London is being investigated as an act of terror.
Even more: Two special elections to watch this week.
Trump's agenda today: Meeting with the president of Panama. Meeting with U.S. technology company leaders.
Latest on the London mosque attack
London's fourth deadly terrorist attack in 2017 again rocked the city on Sunday night. A man drove a van into a group of people leaving a mosque after Ramadan prayers, leaving at least one dead and 10 injured. The suspected attacker was pinned to the ground by members of the Muslim community and waved to a gathered crowd as he was taken away by police.
British Prime Minister Theresa May said the attack was "every bit as sickening" as other recent attacks in the United Kingdom. Trump has yet to weigh in.
A very "special" week ahead
Two special elections have the potential to rattle the Republican Congress this week. In Georgia, Democrat Jon Ossoff is poised to steal a long-time Republican district. The latest polls show the race between Ossoff and Republican Karen Handel is deadlocked.
The most-expensive race in U.S. House history has drawn national attention for the money Democratic and Republican groups have poured into the race. A win for Ossoff would be seen as a referendum on Trump, while a loss would make Democrats wonder when they will finally harness anti-Trump energy to effect.
In South Carolina, a Democrat also hopes to poach a Republican seat. But the odds there, in the rural upstate of a conservative state, are much longer for the Democrat than they are for Ossoff in the Atlanta suburbs.
News and insight you cannot miss:
Blow-by-blow of the disaster on the U.S.S. Fitzgerald. Seven American sailors died in the collision with a Japanese freighter.
A comprehensive Washington Post read on how Trump supporters are starting to lose interest in the leader they elected.
French President Emmanuel Macron has been given a massive mandate to lead the country.
Apple co-founder Steve Wozniak told me you should pay attention to the FCC — not Trump. Why? Net neutrality.