Silicon Valley tech leaders head to the White House — again — for a Trump-friendly photo op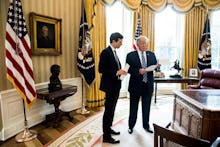 If it's anything like the last one, Monday's White House tech summit won't set any real change into motion — but it will be great PR for the Trump administration.
This week, a bunch of high-profile Silicon Valley leaders are gathering in Washington as part of a technology summit organized by the Office of American Innovation, which is led by husband to Ivanka Trump and senior adviser to the president Jared Kushner. President Donald Trump, Ivanka Trump and Vice President Mike Pence are all expected to join at some point.
The White House has dubbed this "technology week." A number of topics are slated to be discussed, including cybersecurity, drones, the Internet of Things and H-1B visas, Axios reported. Trump wants to reform the visa program, which has a large impact on tech workers.
Leaders from 18 companies are expected to attend, according to an administration official, CNN reported. Among the attendees are Apple CEO Tim Cook, Amazon CEO Jeff Bezos, Microsoft CEO Satya Nadella, venture capitalist and Trump adviser Peter Thiel, IBM CEO Ginni Rometty, Intel CEO Brian Krzanich and Oracle Co-CEO Safra Catz.
All of these tech titans were present at the first technology roundtable Trump hosted in December. Facebook is reportedly absent from the list of attendees, and SpaceX and Tesla CEO Elon Musk will not be attending. Musk left Trump's council after the administration pulled out of the Paris climate agreement.
In the time between the technology roundtable in December and Monday's tech summit, the Trump administration has signed the immigration ban executive order, withdrawn from the Paris climate agreement and strengthened his commitment toward policies that hurt immigrants, women, people of color and LGBTQ communities. The administration has also targeted net neutrality and reportedly leveraged data-mining firm Palantir Technologies to aid in deportation efforts. Palantir CEO Alex Karp will also be in attendance on Monday.
Tech titans face criticism: "For those people who decide to go to this meeting, you are going in a position of privilege and you have probably always enjoyed a position of privilege most of your life if not all of your life," executive in residence at Venture for America Leslie Miley said in May, when the summit was announced. He continued:
And as you sit there with someone who has nothing but privilege, and as [Trump] slowly erodes people's liberties, and as he slowly tears people's families apart, and he slowly tears apart the fabric of what we're trying to be as a country, you really need to ask yourself where the hell your priorities are.
And yet, a number of Silicon Valley leaders — many of whom have publicly condemned the president's actions — head to the White House to rub elbows with the administration.
"The question to be asked is: Did your meeting in December net you any benefit?" Miley said. "Did you get any benefit from that meeting? And if the answer to that question is no, you didn't, then maybe you shouldn't take a second meeting. Your position has already been degraded by the first meeting — how much more do you want to degrade it?"
So why are they there in the first place? Tech overlords might continue to risk their public image if it means face-to-face opportunities to argue against tax reforms that will hurt their bottom line. Also, as Gizmodo argued, "There's a whole lot of money to be made with the new White House Office of American Innovation." And the executives are primed to greatly benefit from Trump's proposed tax cut, as Bloomberg reported. Simply put, being in the president's good graces is great for business, values aside.
And Trump will love the press. As associate professor at the School of Information and Library Science at the University of North Carolina Zeynep Tufekci noted on Twitter on Monday, if the White House doesn't "release a transcript of what they said, they will have just participated in a photo-op meant to prop up the administration." In the absence of transparency and meaningful change, the tech elite are no longer resisting the values of the administration by accepting a seat at the table.