The architect behind the 9/11 memorial will create a memorial for victims of Charleston massacre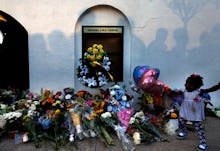 Saturday marked two years since avowed white supremacist Dylann Roof opened fire on an Wednesday-evening bible study at the historic Emanuel African Methodist Episcopal Church church in Charleston, South Carolina, leaving nine black churchgoers dead.
To honor the date, the committee in charge of planning a memorial to the victims revealed its choice for an architect to design it, the Guardian reported.
Michael Arad, the architect who designed the 9/11 memorial in New York City, has been chosen to create a memorial to the nine victims of the Charleston attack on the ground of the church.
Reverend Eric Manning, the new pastor of Emanuel AME, said the memorial will serve as a testament to the strength and resiliency of the church, which is the South's oldest African Methodist Episcopal church, according to the Associated Press.
In a statement, Manning said that Arad's memorial "will help keep the memory of the Emanuel nine alive and honor the resilience of the families, survivors and church members," NBC News reported.
In December 2016, Roof was found guilty of 33 federal charges against him, including hate crimes resulting in death. In January, he was sentenced to death.
Arad's memorial won't be the only acknowledgment of the nine lives lost in the attack at Emanuel AME. As the AP reported, a prayer garden is also under construction at the church.
"I will do my utmost to honor the memory of the deceased and give voice to the injured, the grieving families and the community," Arad said in a statement, according to NBC News.
"I look forward to engaging in a collaborative design process with hope and humility."