'The Bachelorette' 2017: Lee stirs up drama in episode 4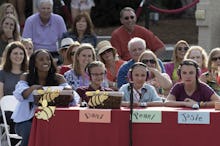 The Bachelorette delivered the D-R-A-M-A. The ABC dating reality show returned on Monday after taking a week off for the NBA finals. Things picked up right where viewers left off at the end of episode three — with Eric losing his cool over people talking about him behind his back.
Most of Eric's frustration is aimed at Lee, who can't seem to wipe the smirk off his face. He knows that he's making enemies in the house, but he doesn't care. In fact, he further fuels the fire by cutting off Kenny's alone time with Rachel.
The guys in the house are keeping tabs on what Lee's doing, and it seems that Dean has caught onto a lot more than what's been shown on camera. He says that Lee's "intolerance" is showing the longer that he sticks around.
Unfortunately for all of us, Rachel does decide to keep Lee. After tearing up thinking of how people will judge her for her decisions, Rachel gives Lee the final rose of the evening. The move sends home three men: Diggy, Bryce and Brady.
Who? Exactly. Moving on ...
After giving the 15 remaining men a pep talk about leaving the bullshit behind them, the group packs their bags and heads for Hilton Head Island, South Carolina.
The first one-on-one date
Dean scores the first one-on-one date of episode four. He must have checked off the "fear of heights" box on his Bachelorette application because Rachel reveals that they're taking a ride in a blimp.
Every one-on-one date comes with pressure. There has to be a connection or that person will be sent packing. Dean, who is the youngest in the group, has to prove that he's mature enough to be with Rachel.
While Rachel and Dean's relationship has always been light hearted and easy going, Dean surprises her by opening up about the death of his mother. It's a tough conversation but it ultimately brings them closer together.
The episode four group date
Alex, Anthony, Peter, Bryan, Jonathan, Adam, Matt, Kenny, Lee, Iggy, Eric, Will and Josiah join Rachel for the episode four group date. Surprisingly their date is drama free as they enjoy some fun in the sun on a boat. They continue to be on their best behavior when they compete in a spelling bee, where they spell words like "squirt," "euphoric" and "coitus." (Josiah wins.)
But then the booze starts flowing and tempers flare. During the cocktail party, Iggy uses his alone time with Rachel to warn her about Josiah. He then proceeds to return to the group of guys and tell Josiah to his face that he spent his precious few minutes talking about him. Josiah is upset, and so is Eric, who had the same issue with Iggy the week before.
It's not enough to have Iggy stirring the pot. Lee decides to get in on the action by complaining about Kenny being "aggressive" with him at the last rose ceremony. Rachel confronts Kenny about what Lee said and Kenny defends himself by saying that Lee's a liar. Does Rachel believe him? Well, thanks to the promo video for episode five we know that Lee and Kenny stick around for one more rose ceremony. However, the episode ends with Kenny pulling Lee aside to confront him about what Rachel said.
Mic has ongoing Bachelorette coverage. Check out our main Bachelorette hub here.