Mahershala Ali covers 'GQ' and Twitter is, to put it lightly, extremely overwhelmed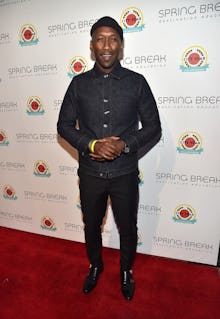 There are those men who can make the internet come to a standstill. Oscar Isaac. Rami Malek. Jon Hamm. Riz Ahmed. When these guys get a magazine cover or look particular dashing in a fashion campaign, it's all people want to talk about.
Now we are pleased to announce that we can officially add Mahershala Ali to this prestigious list. On Monday, GQ released its latest cover and there was Mahershala Ali was looking all joyful and proud and handsome as hell on it — and yeah, Twitter was excited.
We mean really, after seeing this, do you want to talk about anything else?
On Twitter, emotions ranged from disbelief to joy.
He is a man with such a heightened sense of allure and style and charisma that all anyone can do is gawk.
To break this down a bit, Ali does indeed look fantastic in this shoot, wearing bright colors and patterns and necklaces in front of the California coastline.
He is also one of the few men who can look just as debonair with a hamburger in his hand.
For that, he should probably win something.
What's notable too is that in this age of increased violence against Muslims in the United States as well as President Donald Trump's attempts to ban travel to the U.S. for countries with large Muslim populations, here is Ali, a Muslim American, smiling wide on the cover of GQ.
We don't know if GQ meant for this to send a message, but gee, they've got people's attention.
You can see the entire spread and read the GQ cover story here.