Charleena Lyles was the second pregnant black woman killed by police this spring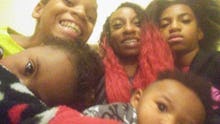 Charleena Lyles was shot and killed Sunday by Seattle police officers after she contacted authorities to report an attempted burglary at her apartment.
The two officers who responded to the scene — both white men — claimed Lyles displayed a knife when they arrived, prompting them to open fire, the Seattle Times reported.
Lyles was 30 years old and three months pregnant with her fifth child at the time of her death, according to the Washington Post. Three of her children were present at the apartment when she was killed.
"There's no reason for her to be shot in front of her babies," Monika Williams, Lyles' sister, yelled at reporters outside Lyles' apartment Sunday, the Seattle Times reported. "The Seattle police shot the wrong one today."
Lyles is the third black woman to be killed by police officers in the United States this year, according to the Post's ongoing database of police shootings. But perhaps the most notable distinction is that she was the second one who was pregnant. 
Previously, Alteria Woods — another black woman — was shot and killed during a SWAT team raid on her boyfriend's apartment March 19 in Gifford, Florida. Woods was four months pregnant when Indian River County Sheriff's deputies targeted what they suspected to be a drug den, according to WPEC.
Sheriff Deryl Loar said at the time that Andrew Coffee IV — Woods' boyfriend, and the father of her unborn child — used Woods as a human shield during the shootout, causing her to be killed in the crossfire.
"Andrew Coffee IV cowardly was using her as protection," Loar reportedly said.
But family members and neighbors said they'd received few answers from law enforcement, and were still struggling to come to grips with what had happened.
"We don't know what to do, no closure," said Arlene Cooper, Woods' aunt, according to WPEC.
As police killings of black Americans continue unabated — despite years of protests, and as national attention shifts increasingly toward President Donald Trump and his administration — the challenges facing black women in their dealings with law enforcement appear to be of less acute nationwide concern than they were when Sandra Bland was found hanging in a Waller County, Texas, jail cell in July 2015.
Even after the outrage generated by former-Oklahoma City Police Officer Daniel Holtzclaw — who was sentenced to 263 years in prison for raping and sexually assaulting eight black girls and women while on duty in 2013 and 2014 — black women continue to cope with the fallout from police violence in unique and under-addressed ways.
Black motherhood has been a centerpiece of these debates. Mothers of slain black boys and men have long been among the most outspoken advocates for police reform and accountability, with groups like the Mothers of the Movement — a cadre that includes Lesley McSpadden, the mother of Michael Brown, and Gwen Carr, the mother of Eric Garner — even gracing the stage at the Democratic National Convention in July.
But as the deaths of Lyles and Woods clearly indicate, black mothers — and mothers to be — are also at risk of being killed by police themselves. And the tragedy of their deaths is singular in that they were also laboring to bring black children into the world at the same time officers shot them.
Lyles' death comes less than two days after a St. Paul, Minnesota, jury acquitted St. Anthony Police Officer Jeronimo Yanez for the July killing of Philando Castile. Castile's death made national news after his girlfriend, Diamond Reynolds, filmed its aftermath and streamed it on Facebook Live.
But one of the most striking parts of that incident was the presence of 4-year-old Dae'Anna, Reynolds' daughter. Like Lyles' children, three of whom were at the apartment Sunday when their mother was killed, Dae'Anna's presence highlighted the frequent proximity of black childhood, black motherhood and black death.
As details continue to emerge surrounding Lyles' shooting, and the local Office of Professional Accountability launches an investigation, family members and supporters are left to reckon with the loss of another black mother. But as ever, the question remains regarding whether the nation will do the same — whether Americans are really ready to face even the less-addressed tolls of police violence against black people, and black women in particular.