Right-wing activists repeatedly rush the stage at Public Theater's final 'Julius Caesar' performance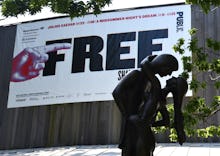 Right-wing activists won't let Julius Caesar die in peace.
At Sunday night's performance of the Public Theater's controversial production of Julius Caesar, conservative demonstrators rushed the stage multiple times to interrupt the show, one shouting "Liberal hate kills."
One of the protesters, Salvatore Cipolla, is a member of the Proud Boys, a far-right fraternal organization that initiates members with gang-style beat-ins and advocates household roles for women in marriage.
The production, part of the Public Theater's wildly popular Shakespeare in the Park series, first made headlines late in its run when Fox News drew attention to its costuming and theme, suggesting the show depicted Julius Caesar as a Donald Trump-type character. The coverage, and resulting right-wing pressure, led companies like Delta Airlines and Bank of America to pull sponsorship of the Public Theater.
Although analogous performances have depicted President Barack Obama in the same role — and to conservative acclaim — many on the right said depicting the assassination of an apparent Trump-like character was encouraging partisan violence.
Sunday wasn't the first night for interruptions, either. On Friday, far-right blogger Laura Loomer was arrested after she stormed the stage while Jack Prosobiec, a right-wing conspiracy theorist, filmed.
Not all mainstream conservatives are a fan of the tactics of halting a play based on its artistic interpretation.
"This obnoxious stupid snowflake crap is no better than the protesters who try to block college speeches," conservative author and talk show host Ben Shapiro tweeted about Loomer's interruption.
The Public Theater stood by its interpretation of the play when controversy first broke and high-level donors dropped their sponsorship. The show's director, Oskar Eustis, published a note reminding the outraged that the point of Julius Caesar isn't to celebrate the assassination, but to highlight the fragility of democracy.
"Julius Caesar can be read as a warning parable to those who try to fight for democracy by undemocratic means," Eustis wrote. "To fight the tyrant does not mean imitating him."