'Final Fantasy 14: Stormblood' Shisui of the Violet Tides Unlock: How to find the secret dungeon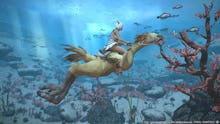 In Final Fantasy XIV, you have to do quests to unlock access to dungeons. That hasn't changed in the new "Stormblood" expansion pack. These quests are often tied to the main story, but Shisui of the Violet Tides isn't. Here's how to unlock it.
Final Fantasy 14: Stormblood: How to unlock Shisui of the Violet Tides
Shisui of the Violet Tides is a level-63 dungeon in Final Fantasy XIV's "Stormblood" expansion. To unlock it, head to the Ruby Seas and talk to an NPC named Kurenai to get a sidequest called The Palace of Lost Souls. This isn't part of the main quest, so you'll have to seek it out yourself.
Thankfully, the quest itself is simple. Just talk to the people the game says to talk to and you'll eventually unlock access to the dungeon. To see a full walkthrough of the dungeon, check out the video above.
More gaming news and updates
Check out the latest from Mic, like this essay about the sinister, subtle evils lurking in rural America that Far Cry 5 shouldn't ignore. Also, be sure to read our review of Tekken 7, an article about D.Va's influence on one Overwatch player's ideas about femininity and an analysis of gaming's racist habit of darkening villains' skin tones.