'Detroit: Become Human' release date set for 2018, director reveals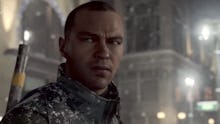 Detroit: Become Human made a big splash at E3 2017, but the game didn't get a release date or even a promise of what year it would launch. Now we finally have at least a little information about when the new video game, which focuses on a robot rebellion in a futuristic Detroit, will hit stores.
Detroit: Become Human: Release date coming in 2018
Speaking to GameSpot, Detroit: Become Human director David Cage said this about the game's launch: "It's going to be next year." That's 2018, though it's unclear when in the year the title will release. It's also possible that the game could hit delays.
You can check out the full interview, which touches on how terrorism and other real-world issues factor into the game.
Detroit: Become Human: What we know so far
Detroit is being developed by Quantic Dream, which broke onto the scene back in 2015 with the game's first trailer. The title stars Jessie Williams as Marcus, the protagonist who leads an android rebellion, which appears to quickly spiral out of control.
Gameplay is very cinematic, at least based on what we saw so far in a brief demo. Hopefully we'll learn even more about the game before it officially launches in 2018.
More news from Sony PlayStation E3 2017
Check out more of our coverage from the PlayStation E3 2017 press conference, including the sweeping new Shadow of the Colossus remake, gameplay for Days Gone and a look at Monster Hunter Worlds. Don't miss the breathtaking cinematics from God of War 4 and Detroit, as well as the showstealing game: Spider-Man.