'Monster Hunter XX' Switch Release Date: Here's what we know so far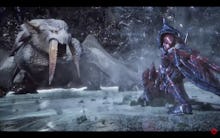 There were plenty of big announcements at E3 2017, such as the cinematic for the new Beyond Good and Evil 2 and a new gameplay trailer for an upcoming Spider-Man game. But one of the big announcements of the weekend was about a game that isn't coming out — or rather, isn't coming out in English.
Monster Hunter XX might be coming to Nintendo Switch in English
At E3 2017, it came out that Monster Hunter XX probably wouldn't be localized. Fans were notably disappointed by the news. However, since that announcement, a Capcom representative told Polygon that the company has "not announced any plans at this time."
Their intent was likely to say that the company has still not decided one way or another about the localization of the game — in other words, localization could possibly still be under consideration.
Or it could mean that Capcom is trying to switch the conversation to talking about their ambitious new title, Monster Hunter: World, which was announced during Sony's E3 2017 presentation.
More news from Nintendo at E3 2017
Check out even more news from Nintendo's big E3 2017 presentation, including an exciting look at Super Mario Odyssey, new details about the Zelda: Breath of the Wild DLC and confirmation that Rocket League is coming to the Switch. Plus the latest on new Metroid and Kirby games on the way.