Meet the 16 'Big Brother' 2017 contestants that will be competing for $500,000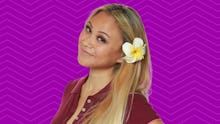 Grab a life vest, floaters. Another summer means another season of Big Brother, and the latest crop of players have been announced.
This year, 16 all-new contestants will be entering the Big Brother house to compete for the grand prize of $500,000.
Season 19 premieres on CBS on Wednesday, June 28 at 8 p.m. Eastern. This year's crop of contestants includes a fitness superstar, a rodeo clown and a microbiologist.
Check out the cast photos and get to know season 19's Big Brother players.
Christmas Abbot is 33-year-old fitness superstar who, naturally, loves working out. Christmas isn't here to bring the drama; she just plans on being merry. She's going to play an under-the-radar game and earn people's trust.
Matthew Clines is a 33-year-old renovation consultant who loves funny animal videos, especially ones with pandas. Matthew's life mottos are quotes from Van Wilder and Lil Wayne, so there's that.
Dominique Cooper is a 30-year-old government engineer who loves eating and trying different restaurants. Her game strategy is to be kind to everyone and always keep an eye out for what is happening.
Elena Davies is a 26-year-old radio personality. Elena says she loves Instagram, napping and shaking her booty. What's her life motto? "Don't go anywhere without beer koozies and a phone charger."
Jason Dent is a 37-year-old rodeo clown. His favorite activity? Rodeo, of course. Jason already has some major concerns about being in the Big Brother house, like using the bathroom.
Jessica Graf is a 26-year-old VIP concierge who describes herself as honest, loyal and loud. Her favorite former Big Brother player is Janelle Pierzina from seasons six, seven and 14 because they have similar personalities and game play.
Cameron Heard is a 24-year-old microbiologist who describes himself as persistent, driven and smart.
He really does it all and shared that his favorite activities range from snowboarding to online chess. "I want to try mountain biking sometime in the near future, as well," he said. Keep an eye for him in the physical competitions.
Mark Jansen is a 26-year-old personal trainer whose biggest concern about being in the Big Brother house is seeing the same people every day. He's planning on earning everyone's trust and being real.
Megan Lowder is a 28-year-old dog walker who describes herself as cunning, smart and beautiful because she's "confident like that." She plans on making a strong team once in the house is ready to win the competitions.
Josh Martinez is a 23-year-old who works in haircare sales. He describes himself as ambitious, courageous and passionate. His favorite Big Brother player ever is "Evel" Dick Donato from seasons eight and 13 because he wasn't afraid to speak his mind.
Cody Nickson is a 32-year-old sales rep who describes himself as confident, charming and sweet. Most importantly, he just loves surfing. "Surfing is my No. 1 activity," he said. "I started surfing when I was stationed in North Carolina and now I take surfing trips to North Carolina or California when I get the chance."
Alex Ow is a 28-year-old, eco-friendly marketing rep whose spirit animal is a sloth. Will slow and steady win the race? She fears she's going to get so behind on all her favorite shows while in the house, she won't know what to do with herself.
Jillian Parker is a 24-year-old timeshare sales rep. She is excited to the play the game but is nervous as to what she might say in the house while being live on TV 24/7. Her life motto might be the best thing ever: "Keep it classy, get rid of the trashy. Get money or die trying."
Kevin Schlehuber is a 55-year-old stay-at-home dad who is ready to enter the Big Brother house, but is already missing his family. His plan to win the game? He's just going to be himself. It works for him.
Ramses Soto is a 21-year-old cosplay artist. He loves doing cosplay because it combines his passion for art and being a nerd at the same time. His favorite Big Brother player ever is Dan Gheesling from seasons 10 and 14.
Raven Walton is a 23-year-old dance teacher who loves shopping because she is the best at it. Her favorite Big Brother player ever is Frankie Grande from season 16 because of how he played off being Ariana Grande's brother.
Mic has ongoing TV coverage. Please follow our main TV hub here.