Champs-Elysees attacker dead after driving into a police vehicle in Paris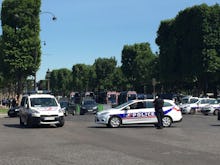 A suspected attacker is dead after barreling into a law enforcement vehicle in the Champs-Elysees shopping district in Paris Monday, the Associated Press reported.
The car, carrying explosives, rammed into a police convoy in the popular tourist locale.
Neither the identity of the driver or his possible motivation for driving into the police vehicle were immediately known, but the Agence France-Presse reported on Monday that the attacker had been on a terror watchlist, according to sources.
France has seen a dramatic uptick in terror attacks since 2015, including an incident in 2016 when a cargo truck rammed into crowds gathered to celebrate Bastille Day on the Promenade des Anglais in Nice, killing 85 people and injuring several hundred more.
In April 2017, just days before France's presidential election was set to take place, one policeman was shot dead and two other individuals wounded in an attack on the Champs-Elysees. The Islamic State terror group, known as ISIS, later claimed responsibility for the attack.
June 19, 2017 2:50 p.m. EST: This story has been updated.