Why are the Kardashian-Jenners so obsessed with light pinkish-beige?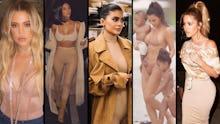 There are a number of things the entire Kardashian-Jenner family can agree on. Loving revealing and waist-cinching outfits, for one. Culturally appropriating, for another. Creating empires through social media, reality television and business savvy — yup, that too.
But then there's also a weird kind of shared aesthetic that we've noticed. Namely, all the sisters seem to be obsessed with few shades of a color that, at first glance, you could describe as "nude," as in matching their skin tone. To see one favorite shade in action, check out the shade Kim Kardashian West is using to tease her makeup line:
In the background here too:
And it's not just Kardashian West who's embraced this very particular shade of light pinkish-beige, but Kylie Jenner too. When Kardashian West and Jenner united on a lip gloss collection earlier this year, this was the packaging — and the shades:
And here is what Khloé Kardashian's lip gloss collection with Jenner looked like:
It's a color that's, say, a bit darker than the lightest foundation shade you'd find at Sephora, and a bit pinker, too. It's certainly not millennial pink, which is brighter and has no brown undertones. So let's call it Kardashian Pink-y Beige.
KPB is not only seen in the sisters' makeup collections but in their clothing too. This is what Kylie Jenner wore to the Met Ball this year, for example:
And here is Khloé in KPB:
When Kim and Kylie came to advertise their makeup collab, this is what they wore:
More generally, the Kardashian-Jenners have recently loved wearing what we'd describe as "just plain ol' beige," or "nude" for them, quite a bit too.
Like here is Kardashian West on the beach:
And here she is again:
Kylie and Khloé are in on it too, of course, rocking various shades of beige all the damn time:
As is Kendall:
The most obvious reason they may love this color is that, when they wear it, they look nearly nude. For a family that's launched itself into fame via sexual appeal, it's a smart move. Wearing a color that matches your skin tone nearly exactly does have this scandalous, alluring effect.
If you squint and look at these photos, even for just a second, you might think, "Wait, are they... naked?" And then you realize that no, they're not.
But by merely making you think that question, they've got you intrigued.
Since this trend of them wearing and advertising with these colors — both KPB and beige — feels so recent, there has to be some more obvious reason for the change. And other than a stylist change for them, which did happen, Yeezy happened.
Yeezy, Kanye West's fashion brand, has been all about beige and neutrals, with models stomping down runways in outfits that do indeed match their skin tones nearly exactly. If you squint and look at these models, yeah, they might look naked.
Kardashian West has been very open about her husband giving her a makeover, and since then, she has been embracing nude. But apparently West has gone so far as to influence the entire family, too — even Kris.
So call it the Kanye West effect, or just plain smart dressing. But now these colors, both Kardashian Pinky Beige and plain ol' beige, are synonymous with the family and how they style themselves.
Whatever that means. We really don't know.