'Pokémon Go' Update: New AR features come to life in amazing fan-made concept art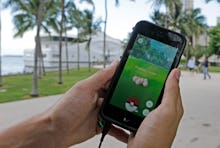 The 2017 Apple Worldwide Developer's Conference has come and gone. Although it was briefly speculated that Pokémon Go might get a little stage time at the event, presumably to promote Apple's new ARKit software, this was quickly squashed as soon as it was brought up.
Along with the now-official gym overhaul and the remaining days of the Fire and Ice event, a fan has mocked up some AR concepts for Pokémon Go. You can check them out below.
Pokémon Go update: Albert Choi's AR mockups look extremely good, and use Apple's ARKit
Albert Choi, a Vancouver-based product designer, decided to use ARKit himself to design some new features for Pokémon Go after being underwhelmed by the ARKit preview at WWDC 2017, which used Niantic's mobile game.
Choi "previewed" an Interact feature that would allow trainers to interact with Pokémon outside of battle, including feeding them berries — something that's being included in the new gym update — and the ability to give them held items, like the Black Belt, to power them up.
Choi's ideas for an Interact feature would allow for trainers to groom and feed their Pokémon, evolve them from the interact screen and switch the graphic of which Pokéball your Pokémon uses when it comes out to hang with you in AR.
It's worth noting that Choi's mockups look great, especially his items for Pokémon that aren't in the game yet, which he's adapted for this new preview from a previous Pokémon Go post he'd made.
Although Choi's work with ARKit are fan-made and not likely to implemented into the game, it's an exciting peek into what Niantic may be able to achieve with Apple's new ARKit.
Choi's mockups also propose options for players who are less interested in the battle aspect of the game itself. It's something that Niantic might want to consider exploring as the game goes on. After all, grooming our little monsters was one of the best parts of Pokémon Sun and Moon, so why should the 3DS have all the fun?
More Pokémon news and coverage
Read more coverage on the rumored Pokémon Stars, including Nintendo's comments on the potential Switch game and news about GameFreak putting up a "now hiring" sign. Watch how well Sun and Moon could translate to Switch and why we won't see the game come to the home console this year — but at least we're getting portable Pokkén and Gold and Silver again.