'Ink Master' Season 9, Episode 3: Frontrunner sent home in surprise elimination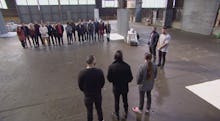 Season nine of Ink Master is truly testing the knowledge and memory of fans. Episode three of the Spike reality series introduces yet another alum that has viewers scratching their heads.
Following the elimination of The Marked Society in episode two, judges Dave Navarro, Oliver Peck and Chris Nunez reveal who will be replacing them: Think Before You Ink.
Think Before You Ink is a tattoo shop based out of Queens, New York, that's owned by season three contestant Made Rich. For those who don't remember him, Made Rich was eliminated in episode six of that season after he botched a Japanese-style tattoo. He's back for a second chance and brought fellow tattoo artist DTatStar along to help him compete for the Master Shop title and $200,000 grand prize.
But does Made Rich have what it takes to make it this time around? He'll have to prove himself against the other artists in the episode three flash challenge, which is all about detail.
The episode three flash challenge
For the flash challenge, the nine competing shops have to work together to paint two designs on a canvas with ridges. The judges must be able to clearly identify the two images when looking at the canvas from different angles. It sounds difficult and most of the shops find themselves struggling to complete it.
Ultimately, the judges end up looking at a lot of unfinished artwork, but Erin Chance and Doom Kitten of Unkindness Art manage to pull off the win. They score the advantage of assigning the human canvases for the elimination tattoo, something that comes as a relief to Allegory Arts and Black Anchor Collective, who they formed an alliance with early on.
The episode three elimination challenge
Like the previous elimination tattoos, the shops must work as a team to complete a single, cohesive piece. The artists have six hours to create and tattoo a design depicting a natural disaster — and, of course, some of the human canvases have wild ideas.
Erin and Doom give the hardest canvas request — a hurricane — to newcomers Think Before You Ink. They try to be fair with the teams in their alliance, but Black Anchor Collective is unhappy with the volcano they're assigned.
Overall it's a rough critique from the judges. Think Before You Ink has a strong application, but their design doesn't translate well. Tri Cities has "questionable line work" and Classic Trilogy's piece is too muddy. Even some of the frontrunners have issues. Unkindness Art and Allegory Arts both have design flaws with their pieces, while Black Anchor's volcano looks like a cover-up.
Jessy Knuckles and Allisin Riot of Pinz & Needlez end up pulling off the win, but Tri Cities, Think Before You Ink and Black Anchor are not as lucky.
According to Oliver Peck, Tri Cities has the worst application. But hands down the worst tattoo of the day has to go to Black Anchor. Despite being known as a strong shop, the initial frontrunners in the competition are sent packing. Their elimination doesn't just surprise their fellow competitors, but the judges as well. Chris Nunez tells Carlos Rojas and Aric Taylor that they would have been his top choice had they been picking teams this season.
Ink Master airs on Spike on Tuesdays at 10 p.m. Eastern.
Mic has ongoing Ink Master coverage. Check out our main Ink Master hub here.