'Pokémon Go' Fire and Ice Event End Date and Time: Sneasel and other Pokémon to catch before it ends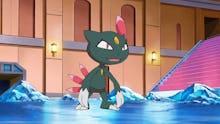 The Pokémon Go fire and ice Solstice event will soon come to a close. Since June 13, players have had the opportunity to catch rare fire- and ice-type Pokémon like Charmander, Cyndaquil and Sneasel. The Pokémon Go event ends on June 20 at 4 p.m. Eastern, meaning there's little time left to catch these rare Pokémon. Here are the ones to check off your list if you're looking to fill out that PokéDex.
Update: Niantic has extended the event an extra day. It now ends on Wednesday, June 21 at 4 p.m. Eastern.
Pokémon Go event: Which Pokémon are more prominent during the fire and ice promotion?
As charter23 on Reddit pointed out, Pokémon like Vulpix and Growlithe are far more common between the days of June 13 and June 20.
Along with these rare pocket monsters, there are some that are less common but still more plentiful than usual. Charmander, Hondour and Seel fall under this category. Then there are the fire and ice Pokémon that are still rare, despite the Solstice event: Charizard, Ninetails and Arcanine. Check Reddit's r/TheSilphRoad subreddit for the full list.
Pokémon Go fire and ice event: Where to find Sneasel, Cyndaquil and more
The best part of the Pokémon Go fire and ice event is that these usually rare Pokémon can be found everywhere. That means places you'd normally find only Pidgeys and Rattatas will likely spawn Cyndaquils and Growlithes. If you're looking for super-rare Pokémon like Charizards and Arcanines, you may want to head to the areas where rare Pokémon usually hang out in your town.
As with most events, it's tough to say where exactly Niantic is hiding the more rare Pokémon, but with the event taking place between now and June 20, you may want to keep the app open often to take full advantage of the Solstice celebration.
Pokémon Go event end time: Out with fire and ice events, in with new gyms and raids
The official Pokémon Go newswire shows us that even though the latest event is ending, there is more to look forward to this summer. Raids and an update to gyms were all part of Niantic's blog post detailing the massive new update. A total revamp of the gym system looks to keep players interested in the game as we reach the one year anniversary. Now if only they'd give us trading and battling already.
June 21, 2017, 7:55 a.m.: This story has been updated.
Check out more Pokémon news and coverage
Read more coverage on the rumored Pokémon Stars, including Nintendo's comments on the potential Switch game and news about GameFreak putting up a now hiring sign. Watch how well Sun and Moon could translate to Switch and why we won't see the game come to the home console this year. At least we're getting portable Pokkén and Gold and Silver again.