Canada just took a major step by extending protections for transgender people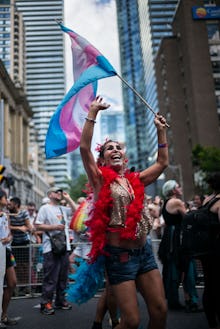 Canada just took a major step forward in ensuring rights and protections for its transgender citizens. The Canadian Senate passed Bill C-16 on Thursday, a new law that expands the Canadian Human Rights Act to prohibit discrimination on the basis of gender identity and expression, NBC News reported.
The new law will also change the criminal code to extend protection from hate-speech to trans and non-binary Canadians. The bill will become law as soon as it passes royal assent, a "formality" that is expected to happen sometime this week, according to NBC News.
Canadian Prime Minister Justin Trudeau tweeted out a celebratory message after the bill passed on Thursday night, saying "Great news: Bill C-16 has passed the Senate – making it illegal to discriminate based on gender identity or expression." He added the hashtag "#LoveIsLove."
Legal expert Kyle Kirkup, of the University of Ottowa, told NBC News that the significance of the legislation is both "practical" and "symbolic."
It sends a message of support to the trans and non-binary community, and acknowledges the discrimination and harassment they have faced, as well as empowering people of all genders and gender identities to take legal action if they experience discrimination.
The new law may lead to major institutional changes, Kirkup said, like in Canadian prisons, where the housing policies for transgender inmates may have to change.
Even as Canada takes a major step forward, the fight for trans rights in the U.S. continues faces an uphill battle. In February, President Donald Trump's administration rolled back an Obama-era guidance that directed the nation's public schools to allow trans students to use the bathrooms that match their gender identities.
Several states are now debating anti-trans "bathroom bills" that would block trans people from using gendered bathrooms that align with their gender. And in March, the Trump administration removed questions about gender identity from a draft of the upcoming 2020 U.S. census.
There have been signs of progress, however. In June, the American Medical Association, the largest association of physicians in the U.S., passed an official resolution declaring discriminatory "bathroom bills" to be harmful to the mental and physical wellbeing of those affected by them.
And Oregon just became the first U.S. state to officially allow residents to identify as non-binary on their state IDs.
In a statement released after the Oregon decision was made public, LGBTQ legal advocacy organization Lambda Legal said "There's a little more truth and justice in the world today ... Kudos to Oregon's authorities for doing the right thing."