6 members of Trump's HIV/AIDS advisory board resign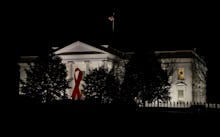 Six members of the Presidential Advisory Council on HIV/AIDS resigned from the board in mid-June due to President Donald Trump's apparent lack of action regarding the HIV epidemic.
In an op-ed for Newsweek, former PACHA member Scott Schoettes said he and five of his colleagues left the council because they felt they were unable to actively combat the ongoing health crisis under the Trump administration.
"As advocates for people living with HIV, we have dedicated our lives to combating this disease and no longer feel we can do so effectively within the confines of an advisory body to a president who simply does not care," Schoettes wrote in the piece.
Schoettes said the Trump administration has no plan to fight the epidemic, "seeks zero input from experts" to develop HIV policy and encourages legislation that will hurt people with the disease.
Additionally, Schoettes wrote that Trump eliminated the White House Office of National AIDS Policy website the day he took office, and has not yet reinstated the site. He also has not appointed anyone to lead the the Office of National AIDS Policy, and did not meet with any HIV advocates throughout his campaign.
Bill Clinton created PACHA in 1995 to advise the Secretary of Health and Human Services and offer advice regarding HIV/AIDS research and policy proposals. Today, the council also oversees efforts to adequately enforce the National HIV/AIDS Strategy, which was formed under the administration of President Barack Obama in 2010 and revised in 2015.
Lucy Bradley-Springer served on PACHA for two years under Obama, and was recently sworn in for another two-year term before she decided to resign. In a phone interview Monday, she said the critical issue that convinced her to leave the council was Trump's failure to provide sufficient health care for people living with HIV and AIDS.
More than 40% of the approximately 1.1 million people currently living with HIV in the United States receive care through Medicaid. Bradley-Singer said she worries Trump's proposed budget cuts to Medicaid could significantly harm people with HIV who depend on the program for treatments and medications.
"A lot of people living with HIV depend on having access to care," Bradley-Springer said. "If they don't have access to care, they don't get the care they need, and then they also are more likely to transmit the infection to other people."
Despite her resignation from the board, Bradley-Springer said she believes she'll still be able to take an active role in combating the HIV epidemic through her work as a nurse and the editor for the Journal of the Association of Nurses in AIDS Care.
"I will continue to make sure that articles get published that make a difference," Bradley-Springer said. "And in my editorials, I will continue to make the point that we need good health care, and we need good social services to really make a difference."