London Mosque Attack: Suspect arrested on suspicion of terror offenses, officials say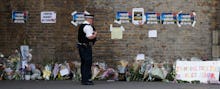 London police say a 47-year-old man has been arrested on suspicion of "terror offenses" in the early Monday van attack on worshippers gathered outside a mosque in north London that left one person dead and nine more hospitalized, the Associated Press reported.
Suspect drove into crowd outside mosque after evening prayers
An attacker drove a van into a crowd of people gathered outside of the Muslim Welfare House, a mosque and community center in Finsbury Park, London, just after midnight, local time on Monday, the BBC reported.
The worshippers had gathered outside the mosque after breaking the Ramadan fast and observing evening prayers. The van reportedly came down the street, mounted the curb and drove into the crowd, according to the BBC.
The driver of the van was reportedly subdued by the crowd before being taken into official custody. An elderly man who died after the attack was reportedly receiving first aid before the attack occurred, and officials are still working to determine whether or not he died as a result of the van attack.
One eyewitness to the attack told the BBC that the driver of the van reportedly said "'I want to kill Muslims, I want to kill Muslims,'" as he exited the vehicle.
British Prime Minister Theresa May called the attack "a terrorist incident" and said that the suspected attacker had "targeted the ordinary and the innocent going about their daily lives," the BBC reported.