I fought Bowser in 'Arms' on Nintendo Switch at E3 2017 — and won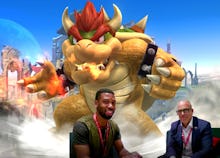 Not all Bowsers breathe fire. Some help lead Nintendo's marketing department, like Doug Bowser, Nintendo's senior vice president of sales and marketing. I caught up with Bowser's human form at E3 2017 and jokingly challenged him to a battle in Nintendo's newest fighting game, Arms.
My joke was taken as a very serious proposal. Bowser made it clear that we could absolutely throw down.
Unfortunately, I only got one round with the fire-breathing turtle normal-looking human. I made the most of it with Min-Min on the attack. As if Twintelle fans haven't had enough of a rough week already.
The match only lasted one round — there was no chance for a comeback — as you can see from the rough cut of the video. We won this round, but stay tuned for subsequent matches where we earn proper bragging rights. Until then, watch our full interview with Nintendo's VP.
Check out more Nintendo E3 2017 news and coverage
Check out even more news from Nintendo's big E3 2017 presentation, including an exciting look at Super Mario Odyssey, new details about theZelda: Breath of the Wild DLC and confirmation that Rocket League is coming to the Switch. Plus, here's the latest on new Metroid and Kirby games on the way.