'WWE 2K18' Release Date, Cover Superstar: Seth Rollins was the safe choice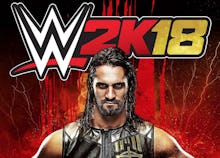 On Monday morning, World Wrestling Entertainment Superstar Seth Rollins was announced as the official cover superstar for the upcoming WWE 2K18 video game. We also got an official release date. It's hard to argue with the Rollins on the cover, but there were other candidates who would have been bolder choices.
The game is set to release on Oct. 17 for PlayStation 4 and Xbox One. Fans who pre-order the Deluxe or Collectors Editions will gain access to the game on Oct. 13.
WWE 2K18: Cover superstar
Here's a look at the full cover:
Rollins is a two-time WWE World Heavyweight Champion and he's also held the tag-team titles and United States belt. He has overcome adversity caused by injury and remains a major player on the WWE scene. 
That said, there were other Superstars who have made a significant impact in the WWE who would have made more of a statement as the cover athlete.
WWE 2K18 cover superstar alternative options: Roman Reigns.
Roman Reigns is booed viciously in almost every arena the promotion travels to, but he is the most polarizing active WWE Superstar. Placing him on the cover would have caused an uproar, endless conversation and debate.
Usually, those are elements the WWE embraces, but not in this situation.
WWE 2K18 cover superstar alternative options: AJ Styles
AJ Styles is arguably the most complete performer in the WWE and his popularity remains high with the wrestling community. He is still a relative newcomer to the promotion, but he's made his mark with WWE fans.
It would be hard to imagine anyone criticizing a cover featuring Styles.
WWE 2K18 cover superstar alternative options: Charlotte Flair
Last but not least, this could have been the year the WWE chose to make history by putting a woman on its cover. 
The best candidate would have been Charlotte Flair. The daughter of the legendary Ric Flair is a performer without weakness. She's great in the ring and made history on Sunday as part of the first all-women Money in the Bank ladder match event.
Having Charlotte Flair on the cover would have been the most significant move the WWE and 2K Sports could have made, but it didn't happen. Again, that's no disrespect to Rollins, the WWE or 2K Sports for their choice, but fans looking for a swerve didn't get one.
More sports gaming news and updates
Love sports games? Check out more content from Mic, including tips for leveling up your MLB The Show RTTS player, the new story mode in Madden 18, a wish for the WWE 2K18 release and a detailed sports video game release calendar.