Nabra Hassanen's death wraps up an especially violent Ramadan for Muslim teenage girls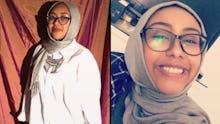 Nabra Hassanen didn't have the chance to spend Father's Day with the man who raised her. Hassanen's remains were found in a pond in Sterling, Virginia, the Washington Post reported. She was 17. 
Hassanen and her teenage friends — all wearing abayas, or traditional long dresses — were walking back after their pre-fast Ramadan meal at an IHOP early Sunday morning when they were accosted by a man in a red car. The man, armed with with a metal baseball bat, then got out of the car. The girls all ran back to the All Dulles Area Muslim Society mosque in Sterling where they were making their nightly Ramadan prayers. But Hassanen fell behind. She was beaten to death with the bat. The Fairfax Police Department identified the man as Darwin Martinez Torres, and he was charged with murder. The police said they had come across no indication that Hassanen's death was motivated by her race or religion.
Recently, there have been a string of reported assaults and harassments in which Muslim teenage girls have been targeted. Earlier in June, it was reported that a police officer at a Minnesota high school used excessive force on a female Muslim student after a male classmate taunted her and called her a "fucking terrorist." The officer reportedly handcuffed the student and removed her hijab. 
Then on June 5, a white man verbally harassed five Muslim teenage girls after they broke their fast at Pepe's Mexican Restaurant in Hickory Hills, Illinois. As the girls walked out of the restaurant, the man shouted "if you don't like this country, leave." When one of the girls responded by saying that the United States is her own home too, the man jumped out of his seat and started hurling anti-Muslim slurs at the girls.
"Fucking goddamn, camel-jacking, mother-fucking cunts!" he shouted.
At the start of Ramadan, noted white nationalist Jeremy Joseph Christian accosted two teen girls and hurled anti-Muslim epithets at them while riding on a Portland, Oregon, light rail train. One of the girls was wearing a hijab. Christian stabbed three men — Ricky Best, Taliesin Namkai-Meche, and Micah Fletcher — when they stood in defense of the girls. Best and Namkai-Meche died. Fletcher survived the knife wounds.
"They lost their lives because of me and my friend, and the way we look," Destinee Magnum, one of the girls, said.
Hassanen's death and the recent events involving Muslim teen girls have shaken the Muslim American community to its core. Several Muslim teenage girls said their parents have had sobering conversations about the dangers of being visibly Muslim in American society. 
Sirad Hassan, 18, said that being a young black Muslim woman "has always historically been at the enclave of discrimination in American history — not just in Trump's America." It's been a topic of discussion with her parents as long as she can remember.
"My parents are always looking out for my safety, calmly reminding me and reassuring me that I should be both proud of my faith but wary of my surroundings at all times," the Princeton University sophomore said in an email. "To wear the hijab is a personal decision of mine, one that I've continued into my college years — but that doesn't go without fear for both myself and for girls like Nabra. We hear of instances like this in the last few nights of our holiest month of Ramadan and it goes without saying that the thoughts in many minds are 'it could have been me.'"
Now, she said her parents are constantly pleading with Hussain and her siblings to refrain from being too outspoken about politics.
"They [don't] think it's safe for us to be political in a post-9/11 society, especially in the wake of recent terrorist attacks — it makes us clear targets for hate crimes," Hussain said.
While Zainab Ali, 19, does not wear the hijab, her parents have spoken to her about taking extra measures to ensure she isn't deemed threatening to others or is susceptible to an attack.
"When Trump got elected my parents got a little scared. I don't wear the hijab. So, I'm not always visibly Muslim. But my parents have warned me against walking alone — especially when I'm wearing shirts from different Muslim organizations. They've told me to stay respectful, and smile at those who look at me differently to show them I'm not a threat. We haven't really talked much about Nabra's death, but I can already tell that it means I won't be allowed out of the house late as often as I was before.
Muslim teen girls have been taking self-defense classes in response to the alarming rates of anti-Muslim hate crimes targeting women — specifically, teenage girls. According to Rana Abdelhamid, the founding president of Women's Initiative for Self Empowerment, requests for her organization's self-defense courses increased by over 600% in recent months. She said, so far, WISE has trained more than 2,000 teenage girls for self-defense. 
"It is necessary, because self-defense is empowering … at a time like this when so many young women feel so much insecurity," Abdelhamid said in an email. "Self-defense builds verbal, physical and emotional capacity allowing young women to de-escalate violent situations, which can be lifesaving."
But self-defense does require caution. Hajji Khalida Ali Beydoun, the mother of two teenage Muslim girls, said in an email that she tells her daughters to not buckle down in fear and to remain vigilant. 
"I speak to my girls on a daily basis about being vigilant and weary of their surroundings," Beydoun said about her hijab-wearing daughters. "Yet, I also told them to always hold their heads up high as they are the flag holders of Islam — to represent our religion as it should be presented."