Beyoncé's BET Awards acceptance speech thanks family, but stays mum on twins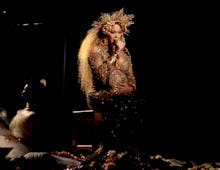 Beyoncé did not attend the BET Awards on Sunday, but her presence was still felt during the ceremony.
The singer's protégés Chloe x Halle, who are signed to Parkwood Entertainment, were on hand at the Microsoft Theater in Los Angeles to accept Beyoncé's award for the viewers' choice music video for "Sorry."
In the speech, Beyoncé thanked her mother, her fans and the BET Awards. Unfortunately, for those hoping for a mention of the newborn twins, the singer kept mum.
"Thank you BET for this award and your tremendous support of Lemonade. This has been a journey of love, of celebrating our culture, honoring the past, and approaching the present and future with hope and resolve," the letter began.
Thank you to my mother Tina Knowles Lawson for being my biggest, biggest teacher and consistent influence. Thank you to my entire family for so much love. To my team at Parkwood, thank you. And thanks to all the fans, my Beyhive, for riding with me. I love and appreciate you. And to everyone at the show tonight, you all look so beautiful. And at home, thank you and have a wonderful, wonderful night. From, Beyoncé.
With no mention of her twins in the acceptance speech, the Beyhive is starting to wonder what the latest news is on the newborns. Well, according to TMZ, they've confirmed that the twins are finally out of the hospital.
Following their premature birth, the twins were dealing with jaundice, which was a result of their elevated bilirubin levels. They were kept in the hospital until they stabilized.
Now that they've been released from the hospital, the family is staying at a $400,000 a-month rental home in Malibu, California, where they will be staying for the summer as they look for a home in Los Angeles.
What we do know about the twins so far isn't a lot. TMZ reported that they were born on June 12. The assigned genders have not been confirmed yet by Beyoncé or Jay-Z, but according to E! News the couple welcomed a boy and a girl.
In classic Beyoncé style, the world will be guessing until she debuts the twins herself.
Mic has ongoing Beyonce coverage. Please follow our main Beyoncé hub here.