19 children are killed or injured by guns every day in the United States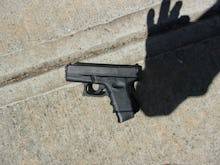 In April 2015, 1-year-old Braylon Robinson was accidentally killed on his Cleveland front steps by another child who picked up an unsupervised loaded gun.
Six months later, an 11-year-old boy shot and killed his 8-year-old neighbor after she didn't let him see a dog she was playing with.
The following year, in March 2016, gun rights activist Jamie Gilt was shot by her 4-year-old son when he found a gun in the back seat of the car and accidentally shot her in the back while driving.
Firearm incidents involving children are tragic — and according to new research, they're also far more common than we may realize.
A study published Monday in the journal Pediatrics found that an average of 1,297 children are killed by firearms every year in the United States. Additionally, an estimated 5,790 kids are treated for gun-related injuries each year.
These statistics place guns as the second leading cause of injury-related deaths, following car accidents, for children ages 1 to 17.
To conduct their study, researchers from the Centers for Disease Control and Prevention analyzed data on gun-related injuries for children ages 0 to 17 from three national databases. Lead author Katherine A. Fowler said the report, which includes data from 2002 to 2014, is "the most comprehensive examination of current firearm-related deaths and injuries among children in the U.S. to date."
Roughly 53% of the nearly 1,300 child deaths from gun-related injuries each year are homicides, 38% are suicides and 6% are unintentional.
The study revealed that boys experience gun violence at exceptionally heavy rates, accounting for 82% of fatal gun incidents and 84% of firearm-related injuries.
"The majority of these children are boys, 13 to 17 years old, and African-American in the case of firearm homicide, and non-Hispanic white and American Indian/Alaska Native in the case of firearm suicide," Fowler told CBS News.
Additionally, Fowler and her colleagues found that while gun-related homicides began to decline from 2007 to 2014, the child firearm suicide rate rose by 60% during that time period.
In light of these statistics, the study's authors offer a few tips to keep children safe around guns. They suggest implementing programs that help kids and teens manage their stressors and emotions in non-violent ways, and they emphasize the importance of properly addressing children's mental health issues. For families who keep guns in the home, the authors recommend unloading all firearms and keeping them in a safe, locked location.
"These are preventable injuries that have a major public health impact on early death and disability among children," Fowler told CNN.