Bernie Sanders is quietly building one of the most powerful progressive media outfits in America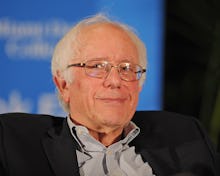 "The key to everything goes back to Bernie's message," said Josh Miller-Lewis, who serves as the deputy communications director in Vermont Sen. Bernie Sanders' Senate office. "What we try to do is explore ways to replicate his voice to as many people as possible, and do it in new and engaging ways."
One of those ways is this powerful Facebook video: A mother, looking into the camera, cries while speaking openly about how Medicaid cuts would harm her 16-year-old son with special needs. The video quickly cuts to a plea from another mother, who describes how Medicaid has benefited her own family, while photos of her children are overlaid on screen.
That short video, which attempts to show the human toll of repealing the Affordable Care Act, also known as Obamacare, reached 1.5 million views across Facebook and could have easily been created by digital media upstarts (like Mic). But it was produced by Sanders' new media team, who are quietly building one of the most powerful progressive media outfits in the country.
It seems like only yesterday when the media couldn't stop buzzing about "Trump TV": After Donald Trump lost the election, so the theory went, he would harness his Twitter followers to build a massive new conservative media channel to take on Fox News.
It never came to fruition, but while all eyes were on the White House (and Russia), Sanders, a 75-year-old politician born decades before the internet was invented, created a powerful digital media presence of his own. And it's an operation that could become a force to be reckoned should he choose to run for president again in 2020.
Sanders is taking big swings with new and creative formats. In early April, he launched his own talk show, called The Bernie Sanders Show, which gets distributed as a Facebook Live broadcast and a podcast on iTunes. Each episode is filmed in the Senate Democrats' studio and features Sanders seated around a coffee table interviewing prominent guests, such as NAACP board member and Moral Mondays architect Rev. William Barber II or New Yorker investigative journalist Jane Mayer. One episode about climate change featuring Bill Nye reached an impressive 4.7 million views and 25,000 shares on Facebook.
Consider a few other examples: A direct-to-camera video op-ed in which Sanders responds to a Trump environmental executive order that reached 8 million views and got shared more than 15,000 times on Facebook. Another explainer series called the "Faces of Greed," which uses statistics and original graphics to break down Sanders' position on the estate tax, racked up another 1.4 million views and was shared over 20,000 times on Facebook.
The brains behind Sanders' video push is a three-person team operating out of Sanders' Senate office: Miller-Lewis, Armand Aviram and Georgia Parke. After the 2016 election, Miller-Lewis told me, Sanders saw a chance to build on, and find new ways to engage with, his online following — including 6.68 million followers on Twitter and over 7 million likes on his Senate Facebook page, more than double that of Massachusetts Sen. Elizabeth Warren's Senate page, for example.
Sanders' antipathy for mainstream cable news is no secret; throughout the campaign, he often railed against the "corporate media" in interviews and during his campaign rallies. Much like Trump has used Twitter to bypass the media, Sanders is trying to communicate his democratic socialist ideas directly to his followers. "He sees the opportunity now, since he is the most popular politician in the country," Miller-Lewis said.
Aviram, who joined Sanders' Senate team after working as a video journalist at NowThis, summed up Sanders' strategy like this: "We're trying to be more like a media company," he said. "We don't think about what other members of Congress are doing. We take inspiration from outlets like Mic, NowThis and AJ+."
According to Aviram, Sanders himself is very involved in daily content decisions and regularly comments on what he likes or dislikes before Facebook posts go up. "Bernie talks about social media more than anything," Aviram said.
Another lesser-known ingredient to the team's success is a distributed network of pro-Sanders Facebook pages that got built during the election. The pages, which include "The People for Bernie Sanders" and "Our Revolution," regularly cross-post videos from Sanders' Facebook page to help them go viral.
Winnie Wong, who runs "The People for Bernie Sanders," which has more than 1.3 million likes, said she and others spread Sanders' content to their followers in order to help expand his reach. "We're in a league of our own and running circles around everyone else," Wong said. "What they don't have is the candidate and the frenzied, passionate buy-in from a millennial audience."
So is Sanders' strategy working?
Miller-Lewis and his team admit The Bernie Sanders Show is a work in progress. But Sanders and his ideas continue to resonate with a broad audience, on social media and off.
A poll in April showed Sanders is now the most popular politician in the country, with almost 60% of Americans viewing him favorably. Americans' support for democratic socialism is also on the rise. Still other polls show once-fringe issues like single-payer health care and free college tuition — issues that Sanders popularized during his campaign — are gaining momentum.
Don't look now, but if Sanders does choose to run again in 2020, the viral sensation who attracted more millennial voters in the 2016 primaries than Trump and Clinton combined will enter the race with a sizable advantage he lacked last time around: an enormous media megaphone... the reach of which can only be likened to Trump's Twitter feed.
Correction: June 20, 2017