'Pokémon Go' Fest Chicago 2017: Tickets go live as new details about the 2017 festival are revealed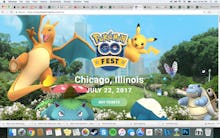 The Pokémon Go anniversary event triumvirate has finally been fully revealed. We're almost at the end of the Fire and Ice event. Niantic has announced some huge changes coming soon to the gyms, in addition to finally revealing Raid features. And now that tickets are live for Chicago's Pokémon Go Fest, we're ready to see what mid-July will bring to Grant Park.
If you're curious about what Niantic has in store for the Pokémon Go Fest, it looks like we've finally got some answers.
Pokémon Go Fest Chicago 2017: Tickets are live and we've got real information about the event
There was a page on the Pokémon Go site that just counted down an enormous timer as to when tickets were available for the event in Chicago's Grant Park on July 22. Now that tickets are live — $20 before shipping and service fees — Niantic has chosen to give us a little more info into what Fest attendees can expect.
The big one — and first as you scroll down past the opportunity to buy tickets — is that new Pokémon will be appearing in Grant Park for the duration of the Fest. The image they use for this, the elusive, region-specific Heracross, indicates that we might be seeing regional migrations at the event. If Heracross does indeed show up, players could probably also expect other regionals like Mr. Mime and Farfetch'd to appear as well.
The Fest also promises challenges and rewards for players at the Fest, saying that trainers can expect to:
Work together with thousands of Trainers in the park and millions around the world to complete challenges throughout the day and unlock amazing in-game rewards globally.
More information about what exactly these challenges will be is forthcoming. In addition, you'll also receive an exclusive medal for participating.
During the event, Grant Park will have special PokéStops with 2 km eggs you can only obtain during the event, along with a walking track you can use to hatch those eggs. There will also be all sorts of photo opportunities and Team lounges as well so you can get to know the other members of your team as well.
Unfortunately, tickets for this event are already sold out, but, thankfully, Chicago's Pokémon Go event will be the first of many.
More Pokémon news and coverage
Read more coverage on Pokémon, including Nintendo's comments on the potential Pokémon Stars Switch game and news about GameFreak putting up a "now hiring" sign. Watch how well Sun and Moon could translate to Switch and why we won't see the game come to the home console this year — but at least we're getting portable Pokkén and Gold and Silver again.