This 'Game of Thrones' season 7 character promises to be even more terrifying than Ramsay Bolton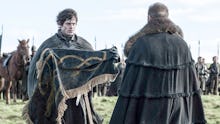 It's hard to imagine a Game of Thrones villain more evil and terrifying than Ramsay Bolton, the illegitimate son of Roose Bolton. Across four seasons, he spent his time killing relatives — including his own father and infant brother — raping women, sicking his dogs on fleeing prisoners and cutting off body parts of his torture victims. Thankfully, he got the death he deserved at the end of season six — when he was devoured by his own dogs.
However, as has become commonplace on the show, when one villain dies, another unfortunately takes his or her place. In season seven, Ramsay Bolton's villainy will be replaced by that of a new wicked leader, as well: Euron Greyjoy.
Pilou Asbæk, who plays Euron, said that in season seven, his character is going to make Ramsay look like a "little kid." For anyone who remembers Ramsay's wedding night, in which he made Theon Greyjoy watch him rape Sansa, or Ramsay shooting Sansa and Jon Snow's brother Rickon in front of them with an arrow, that's a tall order.
That said, for having only appeared sparingly in season six, Euron's already wreaked quite a bit of havoc. He returns to the Iron Islands in episode two, "Home," and almost immediately threw his own brother, Balon Greyjoy, off a bridge to his death. Then, in episode five, "The Door," he stakes his claim for the Salt Throne, despite Theon and Yara's protestations that Yara is the rightful heir.
The Ironborn side with Euron when he promises to build a massive fleet and marry Daenerys Targaryen, who he believes will take the Iron Throne. After being "drowned" and revived by Drowned God priest Aeron Greyjoy, Euron is crowned king. Euron then heads off with his supporters to execute Yara and Theon for their opposition. However, Theon, Yara and Yara's most trusted allies manage to escape with several of the Iron Islands' fastest warships.
Needless to say, they're playing a dangerous game with a man who's not to be trifled with.
Asbæk hasn't said much about what audiences can expect from Euron in season seven, but he mentioned a few ways he got into character that could allude to possible storylines.
"The psychos I've encountered have so many different sides to them," Asbæk told Empire, according to the Independent. "So each scene I've done with Euron, I pick a new thing I wanna show. 'This scene I want to be charming.' 'This scene I wanna be a molester.' 'This scene I wanna kill someone.' After this season, Ramsay's gonna look like a little kid."
A charming molester who wants to kill people — that definitely sounds like a proper Westerosi villain. Couple that with Euron's thirst for power and disturbing behavior at sea — such as cutting out his fellow shipmates' tongues — and you've got quite the terrifying force.
Or, as Euron says of himself: "I am the storm."
Mic has ongoing Game of Thrones coverage. Follow our main Game of Thrones hub here.