The GOP left a giant database containing personal information of almost every voter unprotected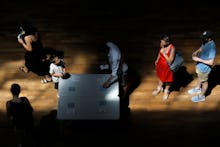 Building giant databases of voters so you can crunch the numbers to launch targeted campaigns is standard practice in modern politics. It's how elections are won now. It also creates a rich treasure trove of private information for hackers.
Republicans just let one of those troves unprotected, resulting in the largest leak of voter data in history. The vulnerability was discovered by Chris Vickery, a researcher with cybersecurity firm UpGuard, who found the trove of voter data sitting on an unsecured cloud computer server owned by Deep Root Analytics, a Republican data firm.
The database includes 198 million Americans, totaling around 1.1 terabytes of personal information — there are only 200 million Americans registered to vote. Exposed information includes address, date of birth, phone number, party, racial information and voter registration status, as well as other information cobbled together from outside sources.
How could someone get access to all that information? All you'd need is a link.
This may be the biggest leak of its kind, but it's hardly unique. Similar voter leaks have happened to the tune of over 93 million voters in Mexico, 55 million in the Philippines and another 191 million less complete records in the U.S. in 2015. Not to mention, the 2016 election was defined, in part, by the Democrats' analogous inability to protect their own data.
Instead of considering the political danger, the researchers at Upguard wrote that the biggest trouble is what happens when the information gets into the hands of criminals, corporations and marketers.
"Beyond the almost limitless criminal applications of the exposed data for purposes of identity theft, fraud, and resale on the black market, the heft of the data and analytical power of the modeling could be applied to even more ambitious efforts — corporate marketing, spam, advanced political targeting," the researchers wrote.