Kim Kardashian West speaks out on blackface allegations: "We saw the problem, and we adapted"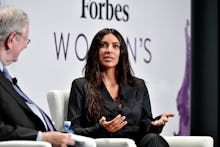 It's not every day that you get an apology from a member of the Kardashian-Jenner family. Khloé Kardashian and Kylie Jenner have both been accused of cultural appropriation and ripping off indie designers on several occasions, and have mostly chosen to stay mum. And Kendall Jenner after that Pepsi commercial? Absolutely silent, too.
But less than one week after Kim Kardashian West caused controversy by teasing her new makeup line KKW Beauty with darkened images of herself, leading many to accuse her of using blackface, she spoke out about what really happened.
During an interview with the New York Times, Kardashian West spoke about her makeup line, its inspirations and, indeed, that blackface controversy.
"I would obviously never want to offend anyone," she began. "I used an amazing photographer and a team of people. I was really tan when we shot the images, and it might be that the contrast was off."
According to her, she showed the image to a variety of people and no one said a thing. Ultimately, however, when she saw people speaking out online, she understood why people took offense and immediately changed the images she released subsequently.
"Of course, I have the utmost respect for why people might feel the way they did," she said. "But we made the necessary changes to that photo and the rest of the photos. We saw the problem, and we adapted and changed right away. Definitely I have learned from it."
Kardashian West and her makeup brand's social media accounts have been updated with images of her that aren't nearly as darkened, though that one darker image still remains.
As we noted before, even admitting there was a controversy is something that many Kardashians haven't done in the past, let alone copping to it and then making sure it never happens again. Maybe her sisters will take note.