Georgia Special Election Polls: Race remains tight, but Dem. Jon Ossoff is looking good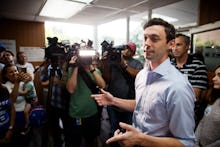 The special election in Georgia for the congressional seat of Health and Human Services Secretary Tom Price is just one day away, and polls show Democratic candidate Jon Ossoff and Republican candidate Karen Handel are neck-and-neck.
While no new polls have been released this week, the most recent WSB-TV/Landmark poll showed Ossoff with 49.7% vs. Handel with 48%, well within the poll's 3.5% margin of error. However, an average of polls kept by Real Clear Politics suggests Ossoff has the advantage in the traditionally Republican district, where Handel hasn't led a poll since mid-May.
Still, the race remains too close to project any clear victor. As Politico noted, the polls don't necessarily account for a number of factors unusual to the race, including Ossoff's allocating millions of dollars in funding toward turning out new voters — whose numbers are much harder for pollsters to anticipate. Additionally, the impact of major national news events — like the attempted massacre of Republican congressmen in Alexandria, Virginia, last week — on voter turnout is similarly difficult to predict.
"I'll tell you what: I think the shooting is going to win this election for us," Brad Carver, GOP chair in a neighboring congressional district, told the Washington Post. "Because moderates and independents in this district are tired of left-wing extremism. ... We're seeing absolute resistance to everything this president does. Moderates and independents out there want to give him a chance."
But an Ossoff victory would indicate that it's quite the opposite — which could function as a general consensus on whether President Donald Trump's performance in the White House is trashing the GOP's national image. In two previous special elections — in Kansas and Montana — Democrats lost but dramatically outperformed expectations in districts that traditionally skew red.