Sean Spicer is interviewing for his own replacement, report says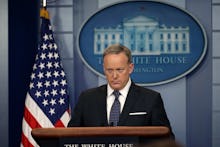 White House press secretary Sean Spicer may no longer be part of your midday must-see TV line-up.
Spicer is currently interviewing candidates to take over his role behind the White House briefing room podium, with Spicer seeking to transition to a more senior position, according to a report from Politico.
Spicer had already been spending less and less time behind the briefing room lectern in recent weeks, with deputy White House press secretary Sarah Huckabee Sanders often taking his place.
But she may not be his permanent replacement.
According to Politico's report, Spicer and White House Chief of Staff had "preliminary discussions" with Fox News commentator Laura Ingraham for the press secretary job.
The report says Spicer and Priebus also interviewed Daily Mail editor David Martosko about the job.
Trump has reportedly been frustrated with Spicer and now-former communications director Mike Dubke for their response to his firing of FBI Director James Comey.
Dubke resigned in May, ahead of Trump's first foreign trip.