'Glow' Release Time: When to watch the new series on Netflix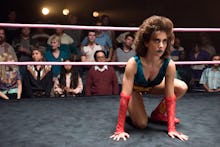 Netflix's new '80s-style comedy series Glow premieres on Friday, and based on the hype, it looks well-worth checking out.
Netflix will drop all 10 episodes on Friday at 12 a.m. Pacific and 3 a.m. Eastern.
Glow stands for "Gorgeous Ladies of Wrestling." It's all about a popular TV show that premiered in the '80s, and featured professional women wrestlers. It's executive produced by Orange is the New Black's Jenji Kohan, who's brought together another strong, diverse ensemble of women.
There's already a documentary called Glow: The Story of the Gorgeous Ladies of Women Wrestling, but that one doesn't star the inimitable Alison Brie. Anyone who remembers Unikitty from The Lego Movie knows Brie's well-suited for a role that lets her kick some ass.
That said, according to reviews, this grandiose television experience is more about the performative aspect of wrestling rather than the sport. So it makes sense that a struggling actress like Brie's character Ruth would be at the center of it.
Ruth decides to go on a casting call for a new wrestling show created by Sam Sylvia, a former second-rate director played by Marc Maron. She doesn't initially impress him, but then her best friend Debbie Eagan, played by Betty Gilpin, storms in and starts fighting Ruth for sleeping with her husband. Suddenly Sylvia sees potential in Ruth as the wrestling anti-hero.
Ruth joins Sylvia's roster of women wrestlers, all of whom are dealing with their own personal struggles, often pertaining to cultural stereotypes. Suffice to say there's lots of room for frustrations to turn into all-out brawls considering the show's arena.
Check out the trailer to get into that glorious '80s spirit.
Mic has ongoing Netflix coverage. Check out our main Netflix hub here.