London Mosque Attack: Suspect identified as Darren Osborne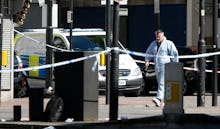 Authorities have identified the suspect in the van attack on worshippers outside of a London mosque has as 47-year-old Darren Osborne of Cardiff, U.K., the New York Times reported on Monday. The attack, which happened shortly after midnight on Monday, left one person dead and nine more in the hospital.
Osborne's family reported told the BBC that he is "not a racist" and that he has been "troubled for a long time."
Osborne is suspected of driving a van into a crowd of people who had gathered outside as they were leaving evening prayers at the Muslim Welfare House, a mosque and community center in London's Finsbury Park neighborhood, the BBC reported.
The van drove up onto the sidewalk and into the crowd. The driver was reportedly restrained by the crowd until he was taken into police custody. One eyewitness told the BBC that he heard the driver saying "'I want to kill Muslims. 'I want to kill Muslims.'"
An elderly man died after the attack. Officials say it is unclear whether or not he died from injuries sustained during the attack or from a previous health issue for which he was already receiving first aid when the attack occurred.
Osborne is reportedly under arrest over suspected "terror offenses," the BBC reported.
British Prime Minister Theresa May condemned the attack as a "sickening" act, saying that it "once again targeted the ordinary and the innocent going about their daily lives — this time British Muslims as they left a mosque having broken their fast and prayed together at this sacred time of year," the BBC reported.