Otto Warmbier, US citizen arrested by North Korea, dies after severe injuries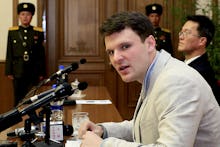 Otto Warmbier, an American arrested by the North Korean government for allegedly stealing a propaganda poster from a Pyongyang hotel in 2016, has died after serious injuries during his imprisonment.
In a statement released by Warmbier's family to ABC, his family confirmed he had died at approximately 2:20 p.m. Monday. They added that despite the best efforts of medical personnel at the University of Cincinnati Medical Center to aid Warmbier, who returned from his time in the North Korean penal system with severe brain damage and in a coma, there was never any prospect of his condition improving.
"Unfortunately, the awful torturous mistreatment our son received at the hands of the North Koreans ensured that no other outcome was possible beyond the sad one we experienced today," the statement said.
"When Otto returned to Cincinnati late on June 13 he was unable to speak, unable to see and unable to react to verbal commands. He looked very uncomfortable — almost anguished. Although we would never hear his voice again, within a day the countenance of his face changed — he was at peace. He was home and we believe he could sense that."
Doctors concluded Warmbier was in a state of unresponsive wakefulness following his release, and had suffered severe brain damage at least a year prior. The North Korean government insisted Warmbier had slipped into a coma after contracting botulism and taking a sleeping pill, though that story is impossible to independently verify.
Warmbier was a student in economics and commerce at the University of Virginia and was well liked in high school, graduating as salutatorian and playing on the football team. He was en route to Hong Kong to study abroad in January 2016 before deciding to take a detour to North Korea using a Chinese company named Young Pioneer Tours.
Surveillance footage released by the North Korean government allegedly showed Warmbier stealing the propaganda poster at Pyongyang's Yanggakdo International Hotel on New Year's Eve 2015, although only the silhouette of an unidentifiable person could be seen in the video.
June 19, 2017, 5:26 p.m. Eastern: This article has been updated.