Sofia Coppola doesn't know what the Bechdel test is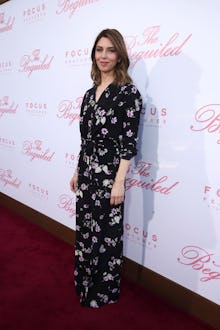 Sofia Coppola, director of such woman-inclusive features as Marie Antoinette and The Bling Ring, doesn't know what you mean by "the Bechdel test." She's never heard of it, she told GQ in a Q&A ahead of her new film, The Beguiled, opening in theaters.
"I guess I've never studied film," she joked upon being asked about the test and responding with a simple "The what test?" The interviewer was attempting to zero in on the fact that, even with a cast chock full of women, the characters in The Beguiled talk a lot about men. Considering the third rule of the Bechdel test is that two named women must talk about something other than a man, it's more difficult than it seems.
"That's so funny, but there are a lot of women talking about a man in this," Coppola responded, perhaps not getting exactly what the interviewer was asking.
Of particular note in her response is her saying that she's never studied film. The Bechdel test, as far as we know, is not a mandatory part of film curriculum yet.
What's most worrisome about this is the idea that Coppola is likely unfamiliar with the work of cartoonist Alison Bechdel, for whom the test is named. Has Sofia Coppola never seen Fun Home? It's on tour right now! Someone buy her a ticket!
The Beguiled opens in theaters Friday.
Mic has ongoing movies coverage. Follow our main movies hub.