New York's Human Rights Division is investigating Fox News, attorney says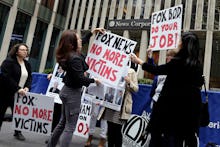 The New York State Division on Human Rights is investigating Fox News over claims of sexual harassment and retaliation, civil rights attorney Lisa Bloom said Monday.
At least two women — television and radio personality Wendy Walsh and Occidental College associate professor Caroline Heldman — have already been interviewed by an investigator about their experiences at the cable channel, Bloom said in a phone interview Monday. According to Bloom, New York's DHR is scheduling an interview with a third — Perquita Burgess.
Walsh, Heldman and Burgess have all accused ex-Fox News host Bill O'Reilly of sexual harassment. All three women are represented by Bloom.
O'Reilly, who was forced out at Fox News in April after allegations of sexual harassment surfaced, has said the allegations against him are "completely unfounded."
The investigation launched by the DHR, which Bloom said she found out about last week, is looking broadly into whether Fox News violated New York law. The human rights specialist overseeing the investigation is looking to speak to anyone who has discrimination or harassment claims against the cable network as part of the investigation, Bloom said.
The investigation comes as Fox News' parent company, 21st Century Fox, has faced increasing scrutiny and legal troubles amid an effort to acquire the British broadcasting company Sky. In May, Walsh traveled to Britain with Bloom to urge regulators not to approve the proposed deal, citing what she said is a culture of sexual and racial harassment at the company.
Other lawsuits, including a class-action racial discrimination lawsuit and various sexual harassment suits, have also threatened the proposed deal.
Ofcom has said it will announce its decision on June 20.
Bloom, who is a civil rights attorney with The Bloom Firm, said the DHR had been considering opening an investigation into Fox News for months. Bloom's law firm in April sent a letter to the DHR requesting that it open an investigation, citing the accounts of several women who have alleged sexual harassment and racial discrimination and retaliation at the company.
Bloom said she sent the request because she wanted a state agency to become involved. She was not paid to request the investigation, she said.
"I thought it was important that a state agency get into Fox News' workplace and protect the rights of women and people of color because there have been dozens and dozens of harassment and discrimination complaints, and yet nothing seems to change," Bloom said.
Scrutiny about Fox News' handling of sexual harassment allegations came to a forefront last year, after former Fox News show host Gretchen Carlson filed an explosive sexual harassment case alleging mistreatment from Fox News chairman Roger Ailes. After Carlson's lawsuit was filed, an internal investigation into Carlson's claims prompted other women to come forward to allege that they, too, had faced sexual harassment and retaliation, which prompted Ailes' unceremonious departure from the company. Since then, even more women who worked at or applied for positions at Fox News have come forward, and concerns resurfaced after the New York Times reported that five women had settled with Fox News over allegations that they were subjected to harassment from O'Reilly.
"This is, to me, a problem that's been hiding in plain sight for a long time," Bloom said.
Ordinarily, the DHR opens investigations into discrimination only after individuals file complaints, Bloom said. But in certain instances, the division is able to open an investigation on its own.
If the DHR finds that Fox News is violating the law, it could order Fox News to pay fines or force the company to make changes so that it complies with human rights law. It's unclear how long the investigation might take to complete.
Requests for comment placed to New York's DHR and to Fox News were not immediately returned.
Bloom said that she was "pleased" by the steps investigators have taken so far, and she said she hopes the agency requires Fox News to make changes to its workplace if it finds evidence of continued violations.