Trump administration will not renew key EPA advisers, cancels committee meetings in agency shakeup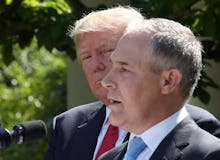 The Trump administration has canceled the 2017 meetings of the Board of Scientific Counselors — a key advisory committee to the Environmental Protection Agency — and will not renew members whose terms are expiring this year, according to an internal EPA email obtained by Mic.
The move appears to represent a shakeup at the board tasked with reviewing the EPA's scientific research — and it could impact future of the EPA as the agency reportedly considers replacing the board's academic scientists with scientists from the industries it is supposed to regulate.
Robert Kavlock, acting assistant administrator for the EPA's Office of Research and Development, announced the BOSC "schedule and membership" changes to members in an email sent on Friday evening.
"ORD has now received confirmation that those members who expire in August will not be renewed," Kavlock wrote.
"Because of the need to reconstitute the BOSC, we are canceling all subcommittee meetings initially planned for late summer and fall," Kavlock also wrote. "We are hopeful that an updated BOSC Executive Committee and the five subcommittees can resume their work in 2018 and continue providing ORD with thoughtful recommendations and comments."
Members of BOSC — a committee that advises the Office of Research and Development — serve three year terms, which are usually renewed because of lengthy research assignments, according to Peter Meyer, who resigned in protest from one of the board's five subcommittees in May after the co-chairs of his committee were removed.
The non-renewals indicate the Trump administration and EPA Administrator Scott Pruitt are "continuing to purge science and undermine objectivity," Meyer said in a phone interview on Monday.
Pruitt, in May, announced an overhaul of BOSC in what spokesman J.P. Freire told the Washington Post was "a clean break with the last administration's approach."
The EPA refused to renew the terms of Courtney Flint and Robert Richardson, co-chairs of the EPA's Sustainable and Healthy Communities subcommittee in May — a move Meyer and Carlos Martín, who served as advisers on Flint and Richardson's subcommittee, called a "shock" in their joint letter of resignation.
"The effective removal of our subcommittee's co-chairs suggests that our collective knowledge is not valued by the current EPA administrators," Martin and Meyer wrote. "We cannot in good conscience be complicit in our co-chairs' removal, or in the watering down of credible science, engineering and methodological rigor that is at the heart of that decision."
In an interview at the time, Meyer said that the committee had been "functioning very well" and that the co-chairs' removal was a sign that the Trump administration planned to to take the committee in a new direction — or even "abolish" it entirely — because they "don't like what the committee does."
According to Meyer, the announcement on Monday suggests the Trump administration and Pruitt are purging BOSC of all current members.
"Whatever accumulated knowledge about the EPA and experience in advising the EPA that the BOSC has built up will be lost," Meyer said when reached by phone. "[It indicates] they want an advisory committee that contains members from the regulated industries."
"Draw your own conclusions," Meyer added.
President Donald Trump, who — like Pruitt — is a climate change doubter, has proposed dramatic cuts to the EPA and earlier this month pulled out of the Paris climate agreement in a major reversal of former President Barack Obama's environmental policy. His environmental and scientific policies have been the subject of two massive protests in April — the March for Science and the People's Climate March.
In an emailed statement, EPA spokesperson Amy Graham thanked BOSC members for their service and said the administration would be taking an "inclusive" approach to filling the board.
"EPA is grateful for the service of all BOSC members, past and present, and has encouraged those with expiring terms to reapply," Graham wrote. "We are taking an inclusive approach to filling future BOSC appointments and welcome all applicants from all relevant scientific and technical fields."
That "inclusive" approach may include representatives from regulated industries, as well as applicants from "universities that aren't typically represented and issues that aren't typically represented," Pruitt spokesperson J.B. Freire told the New York Times in May.
Graham did not say what officials in the EPA had participated in the decision not to renew the BOSC members.
According to Meyer, the "final decision-makers" were likely EPA officials higher than the Research and Development office.
"All of us were effective," Meyer said of the dozens of special government employees who serve on the board, who had "assumed" they would be renewed for another term this August.
In his email, Kavlock encouraged non-renewed members to re-apply for membership. The deadline is June 30.
"Thank you again for your contributions to strengthening EPA's research programs," Kavlock wrote to members of the BOSC. "We appreciate your commitment and efforts to ensure that EPA continues to conduct outstanding, decision-oriented science."
June 20, 2017, 11:03 a.m. Eastern: This story has been updated.