Senate Democrats shut down floor in protest of GOP's secretive Obamacare repeal bill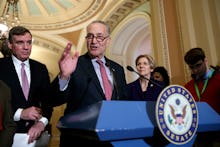 Senate Democrats will protest the secretive process their Republican colleagues are using to develop their plan to repeal and replace the Affordable Care Act by shutting down their branch of Congress' routine business, CNN reported on Monday.
The Democrats plan to put up a united front to try to block all "routine requests to let the chamber operate," down to committee hearing scheduling and vote scheduling procedures. The decision to go into a heightened resistance mode, at least for a while, could threaten to send the normally slower and more deliberative Senate into somewhat more of a deadlock. But it's ultimately more of a symbolic move, and is unlikely to affect the closed-door process the GOP is using to craft the legislation.
As CNN noted, shutting down routine business in the chamber could "eviscerate the bipartisan atmosphere that existed after last week's violent attacks against lawmakers at a Congressional Baseball Game practice."
Such concerns are unlikely to persuade progressive activists and members of the party who fear both the Republican bill, which is likely to be a variation of the ultra-conservative House legislation the Congressional Budget Office says will strip health care from up to 23 million people and send premiums soaring, and the political consequences Democrats might face if they fail to put up a full-throated fight against it.
Yet it's not clear Democrats are actually planning on extending the move for longer than Monday night. As Politico noted, while some Democrats in the Senate are planning to block lengthy committee hearings on Tuesday, it's not clear whether the whole of the party is committed to maintaining the standoff beyond the start of the week.