'Hot Mic' podcast: Finsbury terror attack, Muslim teenager found dead & Syrian plane shot down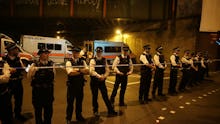 Listen and subscribe to the Hot Mic podcast from your mobile device:
Here are the important stories to get you caught up for Tuesday, June 20:
1. An attacker drove a van into pedestrians just as they left a mosque near Finsbury Park in London.
2. A missing Muslim teenager in Virginia was found dead. Police say her death will not be investigated as a hate crime.
3. Russia has said that it will now treat U.S.-led coalition planes in Syria as targets, in response to a U.S. fighter jet shooting down a Syrian government plane.
Direct from Mic's newsroom, Hot Mic keeps listeners informed with a daily run-down of top stories, breaking news and analysis from our news team.