In Georgia, the grassroots movement behind Jon Ossoff cannot be stopped — or controlled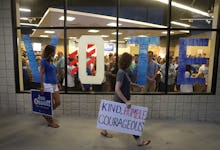 SANDY SPRINGS, Ga. — To Selina Mustafa, Ashford Walk Apartments is an untapped opportunity for the Jon Ossoff campaign. Sporting an "Asian Americans for Ossoff" T-shirt, Mustafa carries orange postcards into the community. In Spanish, they read: "A vote for Jon is a vote for all of us." The apartment complex, in the southeast corner of Georgia's 6th Congressional District, has a large Hispanic community, Mustafa said, a demographic often missed by door-knocking that targets people based their voting history.
A University of Georgia football bus converted to transport Ossoff supporters dropped Mustafa and other canvassers off at the complex. With "Ossoff for Congress" plastered on the side, the old school bus is another symbol of the grassroots energy that is nearing a boiling point in the north Atlanta suburbs.
Mustafa and the two dozen other people canvassing lower-income apartment complexes do not work for Ossoff's campaign. They support the 30-year-old Democrat, but are clear that their efforts are independent of Ossoff or the Democratic Party.
Mustafa is a member of PaveItBlue, a group of women from the Atlanta metropolitan area who began organizing after the 2016 election. The Ossoff campaign targets registered Democratic voters, PaveItBlue members told Mic, while their independent work pursues voters who may be overlooked by traditional voter turnout efforts. "The campaign had their campaign strategy, but ... because we're not part of the campaign, we're able to do whatever," Mustafa said.
She is one of tens of thousands of volunteers, both registered with the campaign and not, who has worked in some way to turn out voters for Ossoff. These grassroots activists are clear: Ossoff would not have been as successful without their support — something he readily acknowledges at campaign events. "The more than 12,000 volunteers ... who have been working so hard for months, they represent hope," Ossoff said in an interview on Monday.
They may also represent the future: Democrats, at their lowest point of power in decades, are trying everything to reverse the party's decline. Local groups, like PaveItBlue, and national networks, like Indivisible, present a golden opportunity to harness energy among millions of people seeking electoral change.
"There is no doubt that we have more work to do, but as part of rebuilding the party, we are working with our progressive partners and state parties around the country to train our organizers in order to build an infrastructure to elect Democratic candidates in the long-term," Amanda Brown Lierman, the Democratic National Committee's political and organizing director, said in an email.
"A model for other groups"
Georgia activists working outside Ossoff's official campaign said that if he wins, their success in organizing to promote the Democrat in a traditionally Republican district can be modeled across the country. But they also said the national Democratic groups have not been easy to work with and cautioned against groups like the Democratic National Committee trying to influence their movement.
"The [Democratic Congressional Campaign Committee] and the Democratic Party, they're so far behind," Amy Nosek, a resident of Georgia's 6th who runs the district's largest Indivisible group, said. "They have no idea what we're doing. We feel like they're working against us, not for us."
It's not that the state and national parties haven't been supportive, Nosek said. It's that their tactics feel outdated and underwhelming in such an important race; she singled out incorrect mailers sent by the Democratic Party of Georgia. Nosek, who started her Indivisible group on Facebook four days after Donald Trump's inauguration, said her membership has grown to more than 2,000. That social media-organized group has reached tens of thousands of voters without financial support or campaign coordination, Nosek said.
"If Jon pulls this off, [Indivisible organizers] want to use us as a model for other groups around the country to help flip [other Republican districts]," she said. Indivisible, she said, was in touch with her chapter in the 6th District long before the Democratic Party.
"It's our goal as an organization to expand the electoral map ... not just in liberal enclaves, but in the deepest red districts," Isaac Bloom, national organizing director for Indivisible, said.
Bloom said a win by Ossoff, fueled by progressive groups, would send a message to the DNC that they "need to embrace the progressive left. We want them to know that's a winning proposition." The groundswell of get-out-the-vote efforts in Georgia is notable given the state's recent history of trying to make it more difficult to vote.
"It's ground zero for us when it comes to voter suppression," said Kristen Clarke, president and executive director of the Lawyers' Committee for Civil Rights, a nonpartisan Washington-based group that sues governments it believes are suppressing voter rights. The committee filed more lawsuits in Georgia than anywhere else last year, Clarke said, adding anyone experiencing issues with voting can call the committee at 866-OUR-VOTE.
"Unprecedented"
In its own right, the official Ossoff campaign is a turnout machine. An Ossoff campaign staffer said the campaign has surpassed more than 1 million voter contacts. While a great deal of attention has been paid to the more than $50 million in spending that has blanketed the airwaves with political ads, making this the most expensive House race in U.S. history, the campaign is spending heavily on turnout efforts. They've knocked more than half a million doors, according to the campaign.
"Our grassroots campaign has been fortunate to benefit from enormous widespread energy and support, from our 12,000 volunteers to the vintage Ossoff bus to the moms of PaveItBlue," said Sacha Haworth, Ossoff campaign spokesperson, in recognition of the outside support the campaign is receiving.
That has already paid off. Turnout before election day was up 150% over the primary election in April. The 140,300 early votes cast for Tuesday's election were equal to more than 70% of the total votes cast in the April election. The Atlanta Journal-Constitution reported the turnout for early voting in Tuesday's election was "unprecedented."
"I never put a sign in my yard"
The most avid grassroots activists say they would be fighting to "flip the 6th" regardless of who was running. Despite a deep commitment to Ossoff, the organizers of United We Stand Dunwoody, an Atlanta suburb, say their group of 150 "moms and neighbors" formed the day after Trump won the election.
"As soon as we knew the seat was available, we started trying to find out more about who could represent us," Emily Rittler, one of the leaders of the Dumwoody group, said. "Then, we decided as a group to get involved in the Ossoff campaign."
That story was similar for many activists in the 6th District: They did not meet through Ossoff's campaign, but through one of dozens of grassroots groups that flourished in the area immediately after the election. It's common to find these grassroots groups driven by women, many of whom say this is their first time getting involved in politics.
Melanie Manning said she voted but did not campaign or talk politics — until Trump was elected. "I never told anyone who I voted for besides my husband," Manning said as she waved an Ossoff sign along a busy road. "I never put a sign in my yard."
There is a feeling Ossoff's candidacy fueled the grassroots fervor in this area. That may be true, but some activists argue it's the other way around.
"If you've heard Jon speak, he talks about the grassroots groups leading the effort," Nosek said. "It's more than a moment. We're building this momentum and amazing community."
Jason Kander, a rising star in the Democratic Party, campaigned with Ossoff on Monday. Kander nearly beat Sen. Roy Blunt (R-Mo.) in the Senate race last fall. He said the "energy to make a difference" exists across the country.
"The most effective movements in American history are the ones that don't start in Washington," Kander said when asked how Democrats should try to harness grassroots energy to produce results. He added with a smile, "This campaign is doing an outstanding job of harnessing a whole lot of excitement."