Jon Ossoff: "The next generation has to start stepping up"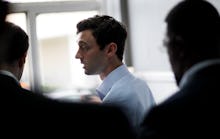 TUCKER, Ga. — Politicians in Washington are unaccountable and it's a situation that demands "fresh voices."
That was Jon Ossoff's final pitch on Monday as his campaign moved into election day. The Democrat spoke with Mic as volunteers handed out canvassing packets and rallied supporters to get out the vote in Georgia's 6th Congressional District's special election.
Striking a tone vastly more bipartisan than the "Make Trump Furious" message his campaign spread in the lead up to the April primary, Ossoff, 30, spoke of his willingness to work with President Donald Trump — but also to hold him accountable. Across the board, politicians in Washington have too few checks on their work, said Ossoff, who used to make documentary films that aimed to expose corruption before going into politics. "We need a commitment to accountability," he said.
"If you look at the circus in Washington, they're mired in gridlock," Ossoff said. "What voters here in Georgia want is representation that focuses on improving daily life."
The former Capitol Hill staffer is running the most expensive House race in U.S. history with $50 million being poured into the suburban district north of Atlanta. It's a congressional seat that has historically been safely red, once held by former House Speaker Newt Gingrich and most recently vacated by Health and Human Services Secretary Tom Price.
In the April primary, Ossoff fell just short of the 50% mark needed to send him straight to Capitol Hill, prompting a runoff election. In the weeks leading up to election day, Ossoff maintained a slim lead over his Republican opponent Karen Handel, but polls Tuesday morning showed Handel's numbers surging.
With Trump weighing in on the race on Twitter, Ossoff said America's partisan political conversation was a challenge his campaign had to overcome. "When the political conversation at the national level is so divisive, you've kind of got to break through that," he said. "We may not see eye to eye on every issue, [but] fundamentally we have more in common than we have apart."
"The next generation has to start stepping up," Ossoff concluded. "It's time for some fresh voices and it's time for folks to grab that clipboard."