Jon Ossoff's campaign is paying for a truck that implores voters to "hold Donald Trump accountable"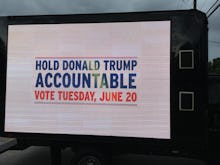 DORAVILLE, Ga. — Jon Ossoff has a simple answer to questions about the national implications of his congressional campaign.
"This race is about the voters of the 6th District," Ossoff said in an interview with Mic Monday. The 30-year-old Democrat is running neck and neck with Republican Karen Handel in a special election on Tuesday to take control of Georgia's 6th Congressional District, a seat vacated by President Donald Trump's Health and Human Services Secretary Tom Price.
But it's not matters specific to the 6th District that are being broadcast on a mobile digital billboard, which Ossoff's campaign has paid to drive around the suburban Atlanta district in the lead-up to Tuesday. The truck's three screens encourage voters to "Hold Donald Trump accountable" with their votes Tuesday.
Garnet Morris, the truck's driver, said he has been driving for about five days around northern Atlanta. "A lot of people honking at me," Morris said in an interview. "Thumbs up. No negative responses."
Morris said that Ossoff's campaign hired Kissworks Media, an Atlanta-based advertising agency, to drive the truck and transmit the message in the campaign's final days. To Morris, the message isn't particularly partisan. "It's a 'get out the vote' ad because ... there is no direct call to action to direct people which way to vote," Morris said.
A campaign spokeswoman confirmed Ossoff's campaign paid for the truck.
The Democratic candidate originally ran on a platform to "Make Trump Furious" but backed off that narrative ahead of a primary election in April. When asked on Monday what makes Trump furious, Ossoff, who missed the 50% threshold necessary to prevent a runoff election, would only say his campaign is about the people in the 6th Congressional District — not Trump.
Polling shows a very tight race going into election day. With $50 million flooding the race, making it the most expensive in House history, both campaigns spent the final hours before Tuesday working on their get-out-the-vote efforts. Early voting has been 150% higher than it was for the primary election in April.