Georgia special election polls: Republican Karen Handel surges in lead-up to 6th District election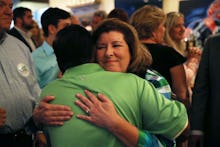 Republican Karen Handel is surging in the polls in the lead-up to Tuesday's special election in Georgia's 6th Congressional District, taking her first lead over Democrat Jon Ossoff since early May.
Polls still have Handel and Ossoff tied going into election day. However, trend lines show Handel may have the momentum as voters head to the polls.
Handel has a minute 0.2% lead over Ossoff, according to the RealClearPolitics polling average. The sudden slight lead tracks back to a Trafalgar Group poll — a GOP polling company that found Handel with a two-point lead over Ossoff going into election day.
Republicans suggested Handel's surge may be tied to last week's shooting at a Congressional baseball game practice, which left House Majority Whip Steve Scalise critically wounded.
Still, Handel's surge is complicated by the immense number of early votes cast.
More than 142,000 people have already voted in the election, according to elections analyst Michael McDonald. And the vast majority of those ballots were cast before Handel's polling surge over the weekend — meaning there may not be enough outstanding votes for her last-minute bump to have an impact.
In the first round of voting back in April — in which Ossoff garnered 48% of the vote — roughly 190,000 people voted. And analysts are watching to see if most of those people voted early this time around or if those early votes were new voters.