Why today's special election is about more than Georgia's 6th Congressional District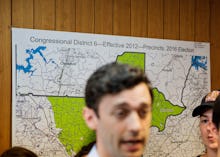 The mood in the north Atlanta suburbs is electric. Election day has finally come for Democrat Jon Ossoff and Republican Karen Handel in the most expensive U.S. House race in history, with more than $50 million in spending in the district.
For Ossoff, a 30-year-old who originally ran to "make Trump furious" but has focused locally for months, a win would flip this longtime Republican seat blue. (The pivot to a local focus doesn't account for the truck Ossoff's campaign is paying to drive around the district urging voters to "Hold Donald Trump accountable.") A loss would leave Democrats wondering how they missed their best opportunity yet to win a GOP House seat in the Trump era. Handel, a former Georgia secretary of state, aims to prevent a groundswell of Democratic grassroots groups from "flipping the 6th."
But whether candidates say they're focused on the local or the national, the implications of today's election are clear: With Ossoff's campaign bolstered by small, anti-Trump grassroots efforts, a win would be a boon for the resistance and speak volumes about its ability to influence electoral politics heading into the 2018 midterms and beyond. Likewise for the resistance, a loss would be a devastating reality check.
The latest polling shows the race is neck and neck going into election day. Both campaigns have spent the last several days focused on get-out-the-vote efforts. Ossoff told supporters Monday that "there's nothing more effective at getting out the vote than neighbors knocking on neighbors' doors."
On Twitter, President Donald Trump called on voters to support Handel. The final hours of the campaign saw mudslinging against Ossoff. A radio ad aired by a pro-Trump super PAC misquoted Barack Obama to discourage black voters. A local Republican Party chairman said he believes the shooting of Rep. Steve Scalise (R-La.) will put Handel over the top. And a TV ad tried to connect Ossoff to Scalise's shooter. (There's no connection, and Handel's campaign condemned the ad.)
There is another special election in South Carolina. Even Democratic members of Congress are not following that race closely, where Democrat Archie Parnell is hoping to poach a deeply conservative district from the Republicans. The odds of that appear slim.
Mic will be covering the Georgia special election on the ground throughout Tuesday.
This is Mic's daily read on Donald Trump's America. Good morning from the Sheraton Perimeter North in Sandy Springs, Georgia. Today is the big day for Jon Ossoff and Karen Handel. Mic will be covering all angles, all day long.
Want to receive this as a daily email in your inbox? Subscribe here.
We're seeking your support to expand our coverage of Donald Trump. As little as a $1 a month will give you access to an exclusive group to interact with Mic journalists and grow our reporting. Learn more here.
What we're watching
Today: It's neck and neck in Georgia, where Mic is on the ground.
More: Senate Democrats are fed up with secret health care negotiations.
Even more: A young American, who was once imprisoned by the North Korean regime, has died.
Trump's agenda today: Meeting with the president of Ukraine. Holding a legislative affairs lunch. Dining with Vice President Mike Pence.
Senate Democrats hold the floor over health care
Overshadowed by the special election coverage, Senate Democrats persisted. They held the Senate floor until early Tuesday morning to highlight Republican efforts to craft their health care reform package in secret. "This is a moment. It's a test," Sen. Cory Booker (D-N.J.) said late Monday evening. "History will look back and see what this body did at this moment in history. I fear we're going to fail the test."
To pass a bill before the July 4 recess, Republicans would need to submit it this week for scoring by the Congressional Budget Office.
Otto Warmbier dies
American Otto Warmbier died on Monday after his release from North Korea imprisonment in a state of "unresponsive wakefulness" that devolved into a coma driven by severe brain damage. Warmbier, 22, was arrested by the regime for allegedly stealing a propaganda poster in 2016. While imprisoned, the North Korean government said Warmbier suffered brain damage by contracting botulism and taking a sleeping pill, claims which doctors who examined him said they had no evidence to back.
In a statement, Trump called Warmbier the "latest victim" of "the brutality of the North Korean regime."
News and insight you cannot miss:
• The Supreme Court will hear a case on partisan gerrymandering.
• Sean Spicer (potentially) out as press secretary?
• The Environmental Protection Agency will not be renewing memberships for a key scientific advisory committee.