GOP accused Dems of "secret" health care negotiations in 2010. Now, they're doing just that.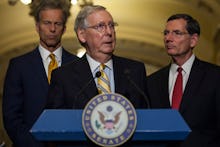 Senate Republicans plan to vote on their yet-to-be-seen health care bill next week, according to multiple reports.
The timing of the vote means there will be zero congressional hearings that allow experts to vet the bill, and the public will have less than a week to read and digest legislation that will impact roughly one-sixth of the U.S. GDP.
The secretive way in which Senate Republicans plan to pass their health care overhaul is not only exceedingly unpopular among voters — 73% of whom want the party to discuss its plans in public, according to a CBS News poll. But it's also flies in the face of issues the GOP itself raised with how Democrats passed the Affordable Care Act in 2010.
Senate Republicans like Majority Whip John Cornyn (R-Texas) said back in 2010 that "the people have a right to know what is happening behind closed doors with secret HC negotiations."
At the time, Senate Democrats had spent 13 days giving members of both parties the ability to amend the bill, and held 25 straight days of debate before passing ACA on Christmas Eve 2009, according to the New York Times.
On Monday, Senate Majority Leader Mitch McConnell wouldn't commit to giving Democrats 10 hours to read over the GOP health care bill before a vote.
Other Republicans involved in the drafting process also chastised Democrats for holding what they deemed "secret" health care discussions in 2010.
"With Democrats discussing health care in secret, they're sacrificing the trust of the American people," Health and Human Services Secretary Tom Price, who was a member of Congress during the Obamacare debate, tweeted in January 2010.
Price has made no such complaints this time around.
Democrats took to the Senate floor Monday night to protest the GOP's cloak-and-dagger crafting of the health care bill.
"The Republicans are going about this in a way that is so procedurally disgusting that it is an embarrassment to our democracy. They are hiding this bill because people will be outraged when they find out what's in it," Sen. Brian Schatz (D-Hawaii) said in a floor speech Monday night. 
"Republicans haven't held a single hearing on Trumpcare. No one who knows anything about health care is allowed to say anything about this bill. They are not allowed to even see it. This is a violation of the way democracy should work."
In another speech on the floor, Sen. Sheldon Whitehouse (D-R.I.) called out Senate Republicans for trying to "secretly jam through" what he called a "garbage bill."
The bill is expected to go to a vote before the July 4 recess.